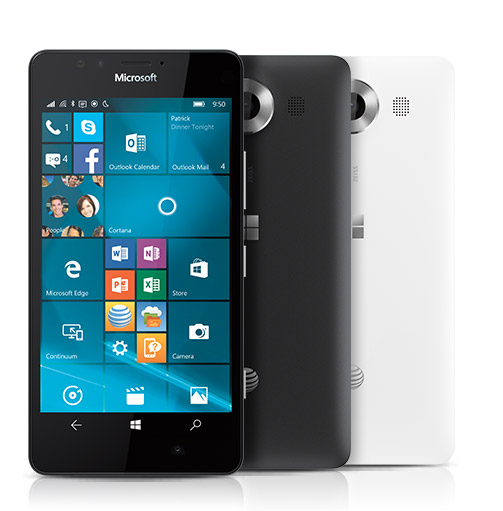 AT&T has confirmed on their website that they will soon be offering the Lumia 950.
The smaller of Microsoft's new Windows 10 Mobile flagships, the handset offers a 5.2-inch WQHD (1440×2560) OLED display, Gorilla Glass 4,  a 20MP PureView camera with triple-LED flash and rich capture, plus 4K video recording, a 5MP wide-angle front-facing camera with support for Windows Hello beta, and 32GB of internal storage (and a microSD card slot to expand the storage up 2TB micro SD card). Under the hoods, there is a Qualcomm Snapdragon 808 64-bit Hexa-core processor, 3GB of RAM, and a 3000 mAh removable battery. It also has 2 antennas with adaptive antenna technology, is liquid cooled, has a 564 PPI OLED screen with Glance support, USB-C with 5 GB/sec data transfer and fast charging, with the device being able to charge up to 50% in 30 minutes.
AT&T has not revealed exactly when the device will hit their shelves, but the device should hit Microsoft Stores in November.