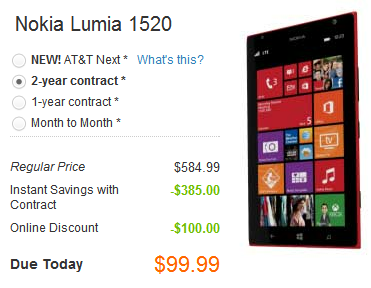 AT&T is starting their Christmas sales early, and are handing out discounts to a wide range of their smartphones, including the still to be released Nokia Lumia 1520, which can now be pre-ordered for only $99.99 on a two year contract.
The deal is not limited to this monster however, with the Nokia Lumia 1020 also only $99, while the sleek Nokia Lumia 925 is hitting the $49 price point, and the venerable Nokia Lumia 920, which has double the storage and Qi wireless charging built-in, costing only $0.49.
For once it seems a Nokia flagship will not be encumbered with an unrealistic launch price, which will hopefully result very good holiday sales.
See the Nokia Lumia 1520 at AT&T here.
Via NPU