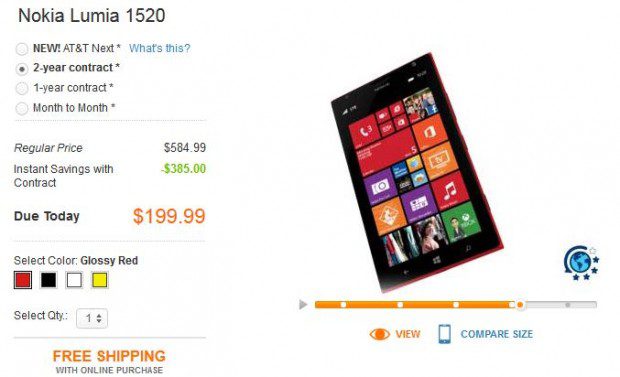 AT&T is now taking orders for Nokia Lumia 1520 phablet device. The device will be shipped on Nov 19th. As expected, it will be available in red, yellow, white and black. Find the pricing below,
2 year contract – $199.99
1 year contract – $449.99
Month to month – $584.99
Lumia 1520 comes with 6" HD 1080p Corning Gorilla Glass 2 display, 20MP camera with ZEISS optics, optical image stabilization, and dual LED flash. AT&T is offering 50GB of free storage through their AT&T Locker service. Nokia will be offering $20 app voucher for the Windows Phone Store and Microsoft will be offering Halo: Spartan Assault game for free. Find the listing from the link below.
Source: AT&T
Read the full press release after the break.
DALLAS, Nov. 8, 2013 /PRNewswire via COMTEX/ — Show off your creative side and enjoy more entertainment with the biggest mobile screen in the 4G LTE Windows Phone 8 family. AT&T* announced today availability of the new Nokia Lumia 1520 featuring a 6-inch, 1080p full HD display and 20-megapixel PureView(TM) sensor.
The Lumia 1520 is priced at $199.99 with a two-year agreement or $27 per month with AT&T Nextsm** and is available for pre-order exclusively from AT&T beginning Nov. 8 at www.att.com/lumia1520, or at an AT&T store. The Lumia 1520 is offered in matte black, matte yellow, matte white and glossy red. The device has 16 GB of onboard storage, plus a microSD card slot that works with cards up to 64 GB. An expanded memory version of the Lumia 1520, with 32 GB of internal memory, will be offered at AT&T in the near future.
For a look at the inside story on the Nokia Lumia 1520, check out this video www.youtube.com/watch?v=OuTsUYqx_8o.
"The Lumia 1520 is the first Windows Phone on the market with a 6-inch 1080p full HD screen," said Jeff Bradley, senior vice president – Devices, AT&T. "The large screen and extra real estate not only accommodate more Live Tiles, but also give you more room to view photos and videos on leading social networking apps or presentations on PowerPoint. The Lumia 1520 is a natural fit for AT&T's blazing fast 4G LTE network and our industry leading portfolio of Windows devices."
The Lumia 1520 comes with three columns of Live Tiles that let you pin your favorite people, apps and more to your Start Screen to make it uniquely yours. Watch your favorite TV shows, carry all your magazines and enjoy movies all on the large mobile screen. Get creative with Nokia Pro Camera, the app that allows you to manually adjust flash, focus, ISO, shutter speed, white balance and exposure. Nokia Pro Camera also lets you re-frame a photo and zoom in and out to discover new stories and reveal more context of the moment you captured. Additional applications coming soon to the Windows Phone Store include favorites like Instagram, Vine, Temple Run 2 and Mint.
The following compelling offers are available for the Lumia 1520:
— AT&T customers who purchase and activate a Lumia 1520 between Nov. 22 and Jan. 9, 2014 are eligible for a $20 app voucher for the Windows Phone Store.*** Redemption instructions will be included with the device at purchase.
— Experience a new chapter of the award-winning "Halo" universe with the top-down action shooter "Halo: Spartan Assault," which Microsoft is offering free on the Windows Phone Store to customers that purchase the Lumia 1520.****
— AT&T Locker, a free cloud storage app that lets you store and share your high-resolution images and videos, as well as music, documents and more is available on the device. For a limited time, customers who purchase a Lumia 1520 can get 50 GB of free storage.*****
The Nokia Lumia 1520 runs on the AT&T 4G LTE network, the nation's fastest and most reliable network, which currently covers nearly 250 million people – with plans to cover nearly 270 million people by the end of 2013.****** Meanwhile, AT&T was named America's fastest 4G LTE network, in PC Magazine's 2013 Fastest Mobile Networks study of 30 markets – and also swept the top rankings in all six U.S. regions from coast to coast: Northeast, Southeast, North-Central, South-Central, Northwest and Southwest.*******
The Nokia Lumia 1520 earned four out of five stars on AT&T's Eco-Rating system. The system, which rates the environmental factors of AT&T branded handset devices, was created to empower consumer choice around sustainability. For more information about this device's rating, AT&T's Eco-Rating System, and how you can join AT&T in making a difference, please visit http://att.com/ecospace.
From the initial purchase to ongoing service interactions, AT&T is focused on providing an unparalleled customer experience. AT&T was recently recognized with two significant achievements, outperforming competitors for customer service and wireless purchase experience. J.D. Power awarded AT&T the "Highest Ranked Customer Service Performance Among Full-Service Wireless Providers" and "Highest Satisfaction with the Purchase Experience among Full Service Wireless Providers" in their 2013, Volume 2 studies.