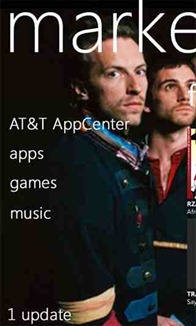 With the news that Verizon is planning to open its own V cast application store for their Android phones, with its own submission fee, approval process and profit sharing with developers, it may be reassuring to readers that the Windows Phone 7 marketplace already includes a mechanism for carriers to promote applications they particularly want to push.
Paul Thurrott has published this screen shot of the on-device Windows phone 7 marketplace, which has recently been updated to include the AT&T AppCenter.
At present is only includes a test application, Test_Journal, but this is likely where AT&T will be promoting their navigation and video streaming solutions, if not pre-installed already.
Read more at Windows Phone Secrets here.