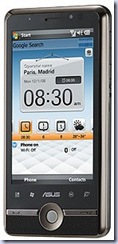 Pda.pl has managed to get an early hands-on with a pre-production version of the 3.5 inch VWGA-screened Asus P835. 
According to Dawid build-quality is good, and the leather (real) at the bottom seems durable. The stylus was however thin and disappointing, but hopefully with the large screen and useful 3-tab UI overlay this wont be very necessary.  The finger keyboard is similar to the one on the HTC Touch HD and adequate enough. Screen sensitive was OK, but this was difficult to judge due to the pre-production nature of the software, which often meant the software was slow and un-responsive (hopefully not Qualcomm disease!).
The trackball in contrast was however very useful and responsive.
The included software includes easyPhoto, easyMusic, call filtering software and software for uploading video to YouTube and flickr.
 
Asus P835 from pda.pl on Vimeo.