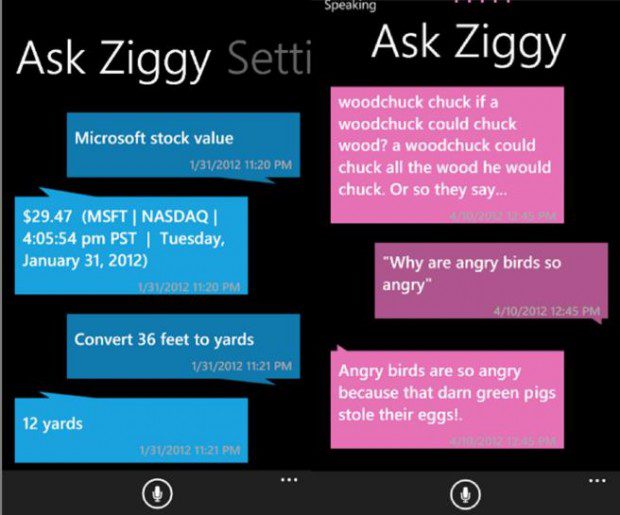 Ask Ziggy, the famous virtual assistant and natural speech search engine for Windows Phone is expanding its availability to other mobile platforms using the $5 million fund it has raised from a MNC. Even though Ask Ziggy is going multi-platform, you can expect more frequent updates from the app soon. And the developers behind the app are also planning to release a SDK for developers.
Press Release:
SACRAMENTO, Calif.–(BUSINESS WIRE)–Ask Ziggy, the world's most advanced Natural Speech search engine for mobile devices, has closed a $5 million round of funding with a publicly traded multinational corporation and expanded its list of strategic partners. Working closely with Nuance Communications, Ask Ziggy will use its most recent round of funding to deliver downloadable Mobile Apps for nearly all Android, Apple and Microsoft mobile devices by Q3 2012.
"Each major funding event is a milestone in the growth of a rapidly developing company like Ask Ziggy," explained Shai Leib, CEO and Ask Ziggy Visionary. "Although we've had prior key investments via Sunbelt Technologies Management LLC, when major publicly traded multinational companies begin to recognize the value of Ask Ziggy's Cloud-based contextual search solutions, as was the case with this strategic investment, we have to celebrate. Ask Ziggy's Natural Speech search engine empowers and expands the user experience and convenience for all mobile devices, not merely cell phones. Speaking directly into a device and getting a voice reply, with zero typing required, is here at last. This funding will now enable Ask Ziggy to deliver multi-language, accent independent, Natural Speech Personal Assistant Apps running on all devices, including cellular handsets, tablets and even computing headsets, which will immediately change our world."
Read more after the break.
"Our product relationship with Ask Ziggy will intensify over the next few months," said Jeffrey J. Jacobsen, Sr. Advisor to the CEO and Golden-i Program Mgr. for Kopin Corporation. "Combining Ziggy's 22-language Cloud-based Natural Speech search engine with Golden-i's world-class embedded real-time speech and gesture interface will rapidly transform 'Siri' class speech recognition from merely amusing into a fast, accurate, professional-grade access to information, and entirely 'Hands-Free,'" he commented.
"Once our Golden-i computing headset achieved 97% or better speech recognition accuracy across multiple languages, the problem we faced was how to extend the convenience of Golden-i's speech recognition accuracy across the World Wide Web or in a Cloud," continued Mr. Jacobsen. "After testing Ask Ziggy's contextual speech recognition, the answer was clear: deliver superior noise-cancelled speech recognition from Golden-i to the World Wide Web, and then allow Ask Ziggy to harness the world's best server resources employing Ask Ziggy's AI-assisted contextual speech recognition within the World Wide Web itself."
Ask Ziggy also separately announced that its Software Development Kit (SDK) will be available shortly and that its first client will be the world's first multi-billion dollar multinational corporation to use a Personal Assistant voice SDK for international transactions.
Source: Businesswire