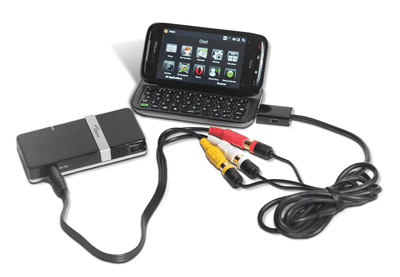 The
HTC Touch Pro 2
paired with a pico-projector allows presentations to be given anywhere, including a mud hut.
The Army has been talking again about its Army Knowledge Online portal, which provide worldwide online access to repository of online information, distance-learning tools, e-mail and other resources for 2.6 million Army users. The Web-based service is now part of a broader service known as Defence Knowledge Online.
That effort reached a new milestone in late October with the approval of an initial set of smart phones that, with other pocket-sized accessories, offers a way for soldiers to access the portal. The phones that can access the AKO portal approved for initial fielding are the HTC Ozone, Samsung Epix, Palm Treo Pro and HTC Touch Pro, said Maj. Keith Parker, assistant project manager for Go Mobile AKO/DKO.
The smartphones are paired with a set of accessory devices contained in a solar-powered backpack from Voltaic Systems which include:
Myvu Solo video goggles, which work as a personal media viewer. Soldiers can privately watch training videos through the goggles and listen to audio through attached ear buds.
The battery-powered Optoma Pico pocket projector, which is smaller than a cell phone and lets users project full-sized presentations onto any available surface. "You could run it from a mud hut," Parker said.
The Celio Redfly companion, a two-pound device that displays whatever is on its companion smart phone on an eight-inch screen with a full QWERTY keyboard. Because the Redfly has no operating system, processor or memory, users can't save data on it. If it's lost or falls into enemy territory, there's no harm done.
The Planon Printstik, which has a 50-page capacity. The thermal printer is designed for "quick reactionary type things," Parker said, not publication-quality documents. Even so, Parker said he once left a page in direct sunlight for a week or so, and the print didn't fade.
A mini solar charger that folds to about the size of a computer mouse and can charge all of those devices. The charger takes a few hours to fully charge but can run the devices for about eight hours.
"Each piece of the Go Mobile kit has to meet stringent Defense Department information assurance requirements," Parker said. The project is getting ready for its first phase of deployment for garrison training. The next phase will be the tactical environment, which will require hardening of the equipment to military specifications, including both Mil-Std 810-F and Mil-Std 810-G requirements, Parker said.
Good Technology provides the Army with its Good for Government server, which sits behind the firewall in the AKO data center, said John Herrema, chief marketing officer for Good Technology. There it interfaces with AKO's back-end systems, including its messaging platform and directory infrastructure.
Good also provides a network operations center (NOC), based in a secure cloud environment, that communicates with the AKO users' mobile devices. The NOC intelligently bridges those two connections — the data center and the mobile devices — so that "you don't have to open up any inbound ports, so there's no way an outside hacker can try to connect in," Herrema said.
"The net result of all this is that you have an environment where users can send and receive messages while they are in no way exposed to attack," Herrema said.
The phones were rigorously tested before they received approval, Parker said. Users will be able to buy an approved smart phone and a service plan from their wireless carrier. After completing a specialized registration process, qualified users will then be able to download Go Mobile's customized software. The middleware for the project was developed by Good Technology, a third-party vendor.
Although it is in the testing phase, the Go Mobile program should be operational by early next year, Parker said.
The program is ultimately about the convergence of smart phones, personal digital assistants and phones, Parker said. He said that when he used to get a PowerPoint slide on his BlackBerry, he would need to wait until he got back to his hotel, home or office to download it. Now he can access it fully via AKO.
"Our goal is to provide enterprise service and ubiquitous access,"  "It's a portal in your pocket."
Read more about the initiative at Government Computer News.com