I, and it appears many other UK Lumia 950 XL buyers, are still waiting for our new flagship Windows 10 Mobile handsets more than a week after being told it will be delivered the next day.
The delay appears to be affecting both those who purchased from Argos and Amazon UK, with Argos initially blaming it on a software issue and Amazon on a problem with their supplier (ie Microsoft).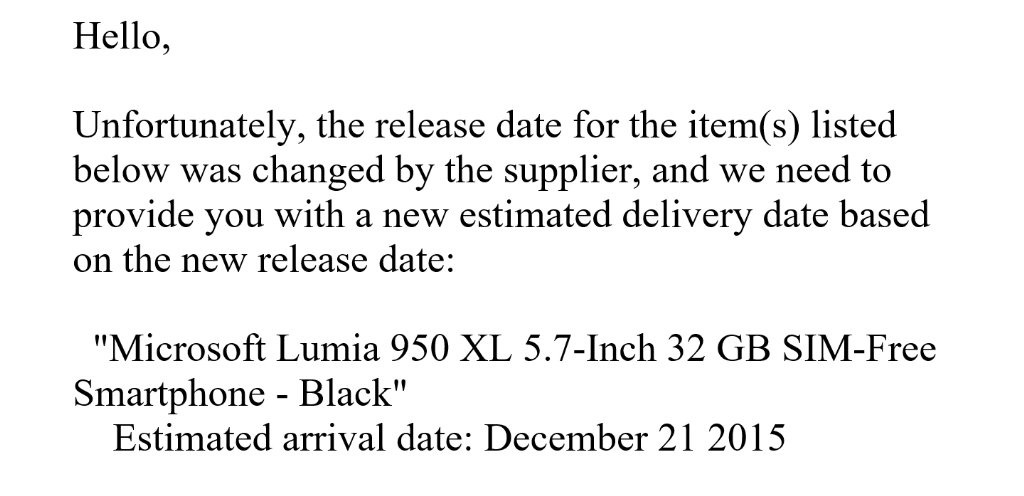 Even Clove UK's delivery was delayed:
The delay amounts to a bungled launch for Microsoft's biggest fans and evangelizers, who were willing to shell out over £400 for an unlocked handset to get it as fast as possible.
Microsoft has responded with reassurance but when pressed for more detail admitted that their information was only second hand.
@nirave @MSFTY @MichaelGillett @AmazonUK Sincere apologies about this guys! You will get your new Lumia 950s soon, we promise!

— Microsoft UK (@MicrosoftUK) December 8, 2015
@nirave @MichaelGillett @mikehole @MSFTY Really sorry aga in guys! This is 2nd hand info coming in, might be worth contacting @LumiaUK — Microsoft UK (@MicrosoftUK) December 8, 2015
@LumiaUk was of course as silent as the retailers who have not been delivering the orders.
All these issues raises questions regarding Microsoft's competence after letting go of 18,500 Microsoft staff, most ex-Nokia.
Have our readers been affected by this issue? Let us know below.