Distimo, a company which specializes in the analysis of the new mobile application stores, have had a look at the Windows Mobile Marketplace.
One of their main findings was that Windows Mobile software was on average much more expensive than software on the Android platform or the iPhone.  At an average cost of $6.99 this was only beat by the Blackberry App World, where the average was a high $8.26.  They note on the app world no applications which are not free can cost less than $3, which would raise the average, which Marketplace had no such excuse.
Another issue, even more than the cost of the apps, is the discrepancy between the size of the Marketplace in US and the rest of the world.  Even the second largest market, UK, only had less than half of the applications of the US marketplace, and the numbers continue to drop of steeply. While Microsoft's policies of demanding localization for each market may come with the best of intentions, it is clear that the price the marketplace pays is very heavy in terms of application availability.
Lastly they looked at the top paid and free applications.  The selection is pretty diverse, and even includes one very expensive application, SPB Mobile Shell. Trinket software however appears to be doing quite well in the market, with a diverse range of software.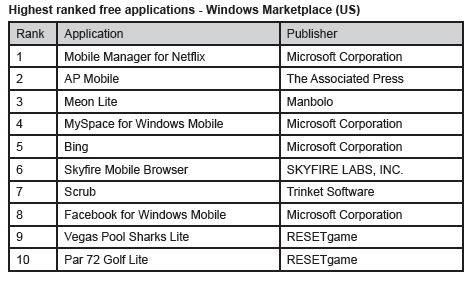 The free applications show a heavy Microsoft presence and again appear pretty diverse, but still dominated by entertainment titles.
Download the full report from Distimo.com here.
What is the biggest issue with Marketplace?  The number of apps, the lack if worldwide distribution, or the cost of applications?  Let us know below.
Via Venturebeat.com