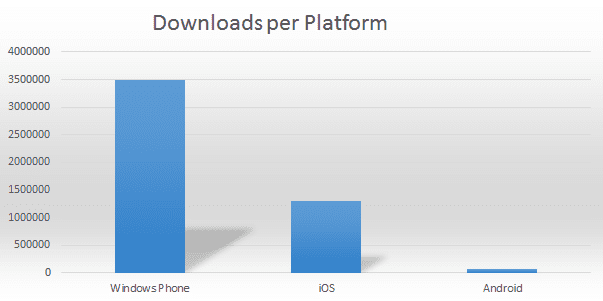 Microsoft today released their Office Lens app for Android after a few weeks in beta.
Uncharacteristically Microsoft also released some download stats for the app on iOS, Android and Windows Phone versions.
On Windows Phone the app has a healthy 3.5 million downloads in 14 months (62,500 downloads per week,5% of devices), while the app racked up an astounding 1.3 million downloads on 6 weeks on iOS (217,000 downloads per week, 0.3% of devices).
On Android, by far the largest ecosystem, the app only managed to accumulate 70,000 downloads in 6 weeks (11,600 downloads per week, 0.004% of devices).
Similarly Microsoft Office for the iPad racked up 27 million downloads in only 46 days , and we know when the combined total of iOS and Android downloads of 100 million was announced in April this year, the vast majority of that was also on iOS, despite the massive size of the Android ecosystem.
Which raises the question – are Microsoft's apps welcome on Android? The numbers certainly suggest not, though it could be that iPhone users just have a voracious appetite for apps, and are less afraid to experiment, not to mention more likely to be using their phones in enterprise, while Android users are likely cautious about downloading apps due to the real likelihood of the apps destabilizing their phones and carrying malware.
How do our readers explain this discrepancy? Let us know below.