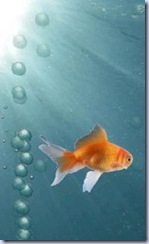 Hekk from XDA-Developers have written this neat little app which simulates a fish floating in a very mobile aquarium, being tossed around while you wave your smartphone.
It seems pretty good for showing of the g-sensor feature of your device, and appears to run equally well on the Samsung Omnia as the HTC Touch Diamond.
Additionally apparently the graphics can also be modified with a little skill to include anything you want.
The app can be downloaded from XDA-Developers here.
Via Fuzemobility.com