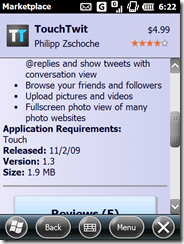 According to Microsoft's chief software architect, Ray Ozzie:
"All the apps that count will be ported to every one of them," he said. "It's a completely different situation from the PC market, where software's built to run on a Windows or a Mac" he said. "Mobile apps require very little development, so it's much easier to bring them onto every platform".
In many ways I agree, the best programs will be popular regardless of the platform, so developers will see market opportunity and develop. What does anyone else think?
Let us only hope that Marketplace for Mobile sees a boost in submissions!