We were shocked and awed yesterday by Apple's glitzy WWDC presentation, but 24 hours later, did Apple really revolutionize everything again, or have they once again merely stolen everyone else's best ideas?
At its annual developer conference, Apple introduced new updates for its OS X, iOS and watchOS operating systems. Alongside updates for its operating systems, the company also unveiled some new services as well. It was a 2 hour and 30 minutes long keynote where the company delighted its current users, seemingly by mostly cribbing features only present on other operating systems
Lets look at them below.
OS X EL Capitan
At WWDC 2015, Apple introduced a new version of OS X, called "OS X EL Capitan". With OS X EL Capitan, Apple is focusing on improvements to performance, user-experience and some new features.
There isn't however more than a handful of new features available with the latest OS X update, to be honest. For those who didn't watch the WWDC keynote, El Capitan introduces adds a snap-like Split-Screen multitasking and improves Safari, Apple Maps, Notes and some other stock apps.
This does not compare very favourably with the massive project which is Windows 10, which unifies Windows phone and Windows desktop, and adds a whole new application subsystem for universal apps.
One of the major features of El Capitan is improvements to Spotlight. With  the latest update, Spotlight understands plain-English. For example, you can search for a file using search terms such as "Word documents that I edited yesterday related to Windows 10". Microsoft isn't far away from Apple, there's already a search feature like this on Windows 10 – and you won't have to wait much longer to use it.
Apple is also allowing developers integrate their apps right into Spotlight. For example, OneDrive will be able to integrate its search features to Spotlight and users will be able to search for their OneDrive files right from the Spotlight bar. For those who don't know, Cortana can already integrate with apps, allowing developers to take advantage of the personal assistant's capabilities.
The latest update for OS X also introduces Split-screen multitasking, which is pretty much like Snap Assist on Windows, or rather a primitive version of the increasingly polished window management on Windows 10.
El Capitan is taking the OS X ship for a slow cruise and while Microsoft has placed their speed boat in high gear.
Unlike Apple, Microsoft is moving fast and hard to make Windows 10 an operating system which users will love. The company  is adding features that Windows users want, and improving the ones which were loved already. For example, Windows 10 merges the Start menu of Windows 7 and the Start screen of Windows 8 to create an experience that works for both desktop and mobile users. Alongside the start menu, Windows 10 also introduced a handful of much-needed features, such as a new universal Store, a revamped Settings app which replaces Control Panel, Microsoft Edge and much more. Microsoft's Windows 10 is looking pretty strong while compared to OS X El Capitan, to be fair.
One of the other major feature Apple still needs to do some catching-up on is Continuum. Windows 10 introduces a new feature known as Continuum for Windows Phone which will allow users to connect their Windows Phone with a display, keyboard, mouse and turn it into a computer, which will offer a similar experience as Windows 10 for desktops.
It'll be interesting to see where both of the company's plans lead to in the future. Microsoft is expected to deliver Windows 10 updates quickly while Apple seems to be sticking with its yearly update plans – which may have a major impact on both of the operating systems.
iOS 9
Alongside OS X EL Capitan, Apple introduced iOS 9. Just like the latest version of OS X, the latest update for iOS also comes with the addition of minor additions and improvements. Once again, Apple is focusing on performance and user experience improvements. Unlike Microsoft and Google, Apple has decided to update its apps with an OS updates. For example, with iOS 9, Apple is finally fixing its Maps app. With the latest update to iOS, Apple Maps is getting public transit, which has been available for Windows users who use HERE Maps for quite awhile.
Siri, their personal assistant for iOS is finally growing up.With the latest iteration of iOS Siri can finally learn your habits and help you with daily tasks (such as traffic reminders). At the keynote yesterday, Apple introduced new proactive features for iOS, … which has been available on Cortana and Google Now from Day 1.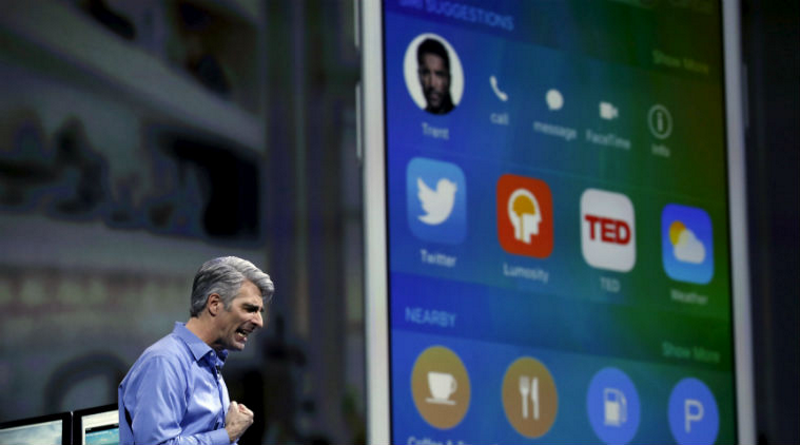 Weirdly enough, Apple also showed off the updated Notes app that comes with iOS 9. There aren't any huge new additions, with the latest update, the Notes app on iOS will finally allow users to turn their lists into a checklist. Apple is trying to take on Microsoft, however, this has been available on Microsoft's OneNote and the company's recently acquired app, Wunderlist for awhile. Maybe Apple should bring its Notes app to other platforms if the company really wants to take on Microsoft.
iOS 9 for iPads
Apple has also introduced a much better iOS 9 for iPad users. With the latest update, users will be able to try out real multi-tasking and run apps side-by-side. The company introduced the ability to run apps side-by-side – if this sounds familiar, that is because it is. First introduced in Windows 7 and expanded upon in further iterations, Windows has long supported the ability to snap app Windows far beyond the limited 70:30 ratio Apple is touting here. The addition of multitasking to iPad may have a major impact on the Surface — it could be good, or bad.. However, it seems very unlikely as Microsoft is further ahead of Apple – the company recently introduced the ability to run 4 apps at once (each app takes 1/4 screen size), which is a very useful features for power users.
To be fair though, Apple's iPad business is in a decline, whereas Microsoft's Surface business is growing pretty well. Some may argue that the addition of real multi-tasking features to iOS may have a dent on Surface sales – however, I don't see that happening anytime soon. Why?
Simple: iOS isn't as powerful as Windows is.
The Surface has some amazing features, it runs full-version of Windows, a good display, and it also includes a keyboard – which is one of the major reasons of some businesses liking the Surface tablets. On the other hand though, iPad is running a mobile operating system, it's not as powerful as Windows, doesn't have a keyboard, and the display isn't just big enough for productivity tasks. The iPad may be the go-to tablet for most consumers, however, businesses may still go with the Surface – even after the launch of iOS 9.
Conclusion
It's pretty clear that Apple is playing the catch-up game. OS X isn't as powerful of Windows yet, iOS isn't just as good as Windows Phone (at least for me),  and the company still needs to its iPad devices if they
Apple still has a lot to do. And Microsoft is the new cool kid of the town with its cross-platform strategy and technologies such as the HoloLens.