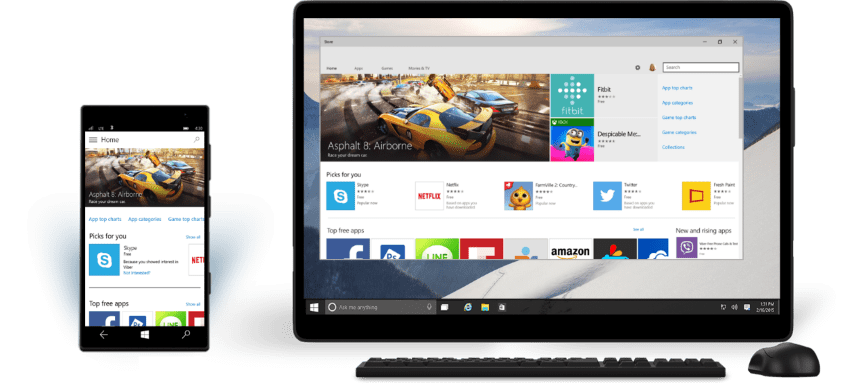 As Windows 10 moves quickly towards its release date all eyes turn towards Microsoft and its new Universal Windows store – Windows 10's raison d'être.
Developers have previously not embraced the old universal app platform, due to the extremely negative public perception of Windows 8.1 and the fact that metro apps were not appealing to the vast majority of Windows users with keyboards and mice. With Windows 8 and Windows Phone universal apps, there was a chicken and egg problem with universal apps only being viable on mobile.
In Windows 10 Microsoft has attempted to crack this issue, growing the app market for Windows 10 by making universal apps useful not only on desktop, but finally extending to the Xbox as well.
While developers cannot yet submit their apps into the store, Microsoft has shown us at build a sample of big name apps that we can expect to be coming to Windows Phone either at launch or (hopefully) shortly afterwards.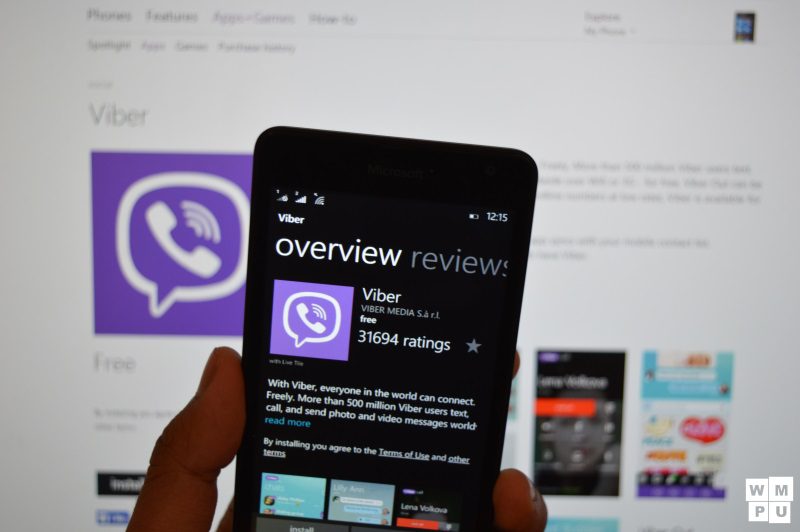 Viber – Viber already exists as a "linked" universal app on Windows 8.1 and Windows Phone, in Windows 10, it will get a user interface overhaul to match the new style introduced in Windows 10, with wireframe icons all around and a muted subtle UI. It will be a true universal app that changes its UI for the relevant device.
We're really excited about Windows 10 and the opportunities it offers to developers," said Michael Shmilov, Viber's COO. "The Universal Windows Platform has allowed us to create a unique version of Viber that lets users switch to the device that suits them at any given moment and stay in complete sync, without compromising their experience. Beyond that, the integration with Live Tiles and Cortana, plus the social extensibility that Windows 10 offers will enhance the way people communicate with Viber. We will keep working closely with Microsoft in order to ensure the best possible experience for Viber users on Windows 10
Viber says the Windows 10 app will be available later this year.
---
Uber – Microsoft demoed Uber integration with Windows 10 at /Build/.It is currently unknown whether the integration is done via Uber app or through one of the new Cortana APIs exposed in Windows 10 though we're leaning towards the former as Microsoft is moving away from built-in integration to an app-based model. What this does is allow uses of Cortana on Windows 10 to order cabs entirely through Uber without having to open the Uber app.
A specific example was demoed where Cortana would intelligently suggest a Uber cab for appointments, you'd pay for it and Cortana would deliver regular updates, all through the Cortana UI.
---
USA Today – While there already is a USA Today app for Windows and Windows Phone, Microsoft demoed a Universal version of that app which could run on the Xbox, Windows PCs and Mobile device. This new app looks cleaner and better designed than the older version and makes use of responsive Windows 10 APIs. It would likely be launching on July 29th or shortly afterwards.
---
WeChat – WeChat was briefly demoed running on the desktop of Windows 10. We didn;t see anything new about it aside from a Windows 10 redesign.
---
Microsoft also showed off an additional list of Windows 10 app partners that are expected to support the UWP program.
Most prominent is Twitter which is pre-installed on Windows 10 PCs and is yet to be updated from Windows 10 with support for the new Social Integration Framework which would allow users to integrate their twitter contacts with the new Windows 10 people app.
On Windows Phone the app lacks gif support and support for the new quoting mechanism implemented by twitter a few months ago. We'd hope that the Windows 10 update will bring those new features, but that's yet to be seen.
Next is Evernote, a powerful cross-platform note-taking app. The firm has apps for Windows 8.1, Windows desktop and Windows Phone, but the design of the Windows Phone and 8.1 apps are dated and inefficient compared to other apps in the store and their own cross-platform apps.
Other partners Microsoft listed include Disney, Netflix and Flipagram and other prominent cross-platform developers. We have no further details about them at this time.
---
Miscellaneous – Aside from the Microsoft app partners, other Windows Phone developers have pledged to update their apps to Windows 10. Windows Phone developer Rudy Huyn is already hard at work on his Instagram client 6tag for Windows 10. MixRadio, a popular cross-platform music service is also likely to release a universal Windows app later this summer. The removed banking apps like Chase and Bank of America are also making returns in Windows 10. Finally, VLC for Windows and Tweetium also make use of some Windows 10 APIs on the desktop at the moment and will be updated to Windows 10 after launch.
It goes without saying that we'd love to see apps like Instagram, Kik and Tumblr receive updates for Windows 10 and that Snapchat and the Google apps would also make using Windows better for some consumers.
Even in their absence however, the UWP program seems to be heading for a strong start. If Windows 10 is a success, those apps may well be on their way.
Are there any apps you wish to see updated to Windows 10? Let us know in the comments below.