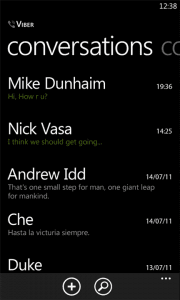 WhatsApp is one of the most popular application on any mobile platform. Many other apps like KIK or Group Me tried to compare to it – and failed…
…Except Viber. Well, it still does not have as many users as WhatsApp, but compared to other 'clones' it seems to be more popular, and given the disappearance of WhatApp a quick overview and comparison seems timely.
The UI of both apps is very similar: at the beginning you see the conversations site, a swipe to the left will bring you to your Viber/WhatsApp contacts. WhatsApp does also have a site with all your contacts, even with those which do not use the messaging client so far, but on Viber you will find this in the settings under 'invite by SMS', 'invite by E-Mail' or by pressing the 'Viber contacts' header on the main view, which I personally find much better, as a separate site for this looks a little bit disorganized.
While WhatsApp only supports on or off for Push Notifications, Viber has also the option to notify you if there is a new contact who is using it now. You are also able to connect to Facebook or twitter to tell your friends about your Viber experience. You can't chat with Facebook or twitter friends, and you can't synchronize contacts, so this point is really useless. It tells you to 'connect to Facebook', and you have also the option to filter Facebook contacts, which means there is the option of a real linking, but it didn't work. After I pressed the 'connect to Facebook' button it showed me 'success', and nothing happened. I do not see Facebook contacts in my Viber contact list and I cannot post something. I'm not very strict with that, as the application is still a beta version. You are also able to delete your complete message history: An option I really miss in WhatsApp.
When it comes to chat there are some differences. WhatsApp supports group chats and Smileys, which Viber doesn't. But Viber will support calling soon, which is great, because many of my 'non-smartphone-hardcore-user-friends' ask me: "Am I able to call my friends via WhatsApp?" Sending a Picture is possible on both, but WhatsApp is also able to send voice memos and videos.
You can see, both clients are kind of similar. While Viber has the cleaner, smoother and less buggy UI (you have to admit, WhatsApp is a bit buggy on Windows Phone), WhatsApp has more functions. I would say WhatsApp is better, if it was free! Viber is, and it will support calls soon, which WhatsApp did not announced so far, so for me Viber is the winner. WhatsApp already received many updates, but the beta version of Viber has still less bugs than the full version of WhatsApp (ignoring the Facebook linking bug), which is sad. The only plus for WhatsApp are the group chat option and the more users.
Viber is completely free and can be found in the Marketplace