BoxFiles for Dropbox was the first Dropbox app for Windows Phone, but it had some issues at first. Thankfully, the developer updated BoxFiles, and it works perfectly now (Video Review)!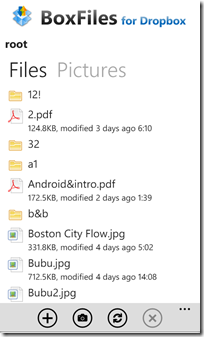 This app lets you access all your Dropbox files through a simple Windows Phone interface. Everything in the app now works perfectly. You can email links to any of your files, and copy, move, delete, or rename them all from your phone. Also, you can create new folders straight from the app. And even though you can't edit documents (because of restrictions in WP7's file management system), you can download and view Word, Excel, PowerPoint, and PDF documents. However, you can upload pictures, and you can stream music files from your Dropbox. Also, there's a neat Picture view section, where you can see all your pictures in thumbnail view.
And with their new update, you can also change the settings so that when you click on a file from your Dropbox, it instantly opens; while by default, you have to tap and hold the file to open it. The interface is usually fast and fluid, and follows the Windows Phone design elements really well.
If you already purchased BoxFile for Dropbox, their update should have already been pushed to your device for free. Otherwise, you can buy BoxFiles for Dropbox in the Marketplace for $1.29