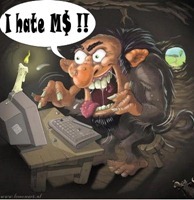 Wikipedia, the 7th biggest site on the internet and a reference we all use regularly, is an important source of information about any product.
It is therefore a great pity that a Linux and Apple troll called Lester has been infesting the Windows Phone 7 entry, doing his best to add negative slant to the article, concentrating on so-called "missing features" which do not appear in the entry for any other mobile OS.
Fortunately Windows Phone 7 has one champion, in the form of well known forum member Interframe, who has been trying to balance the article appropriately, but I am sure he needs some help.
Being Wikipedia, anyone can edit the article, and we suggest our knowledgeable readers do just that, and try and correct the mess Lester is vomiting on the article every day.
Read and fix the Wikipedia article here.