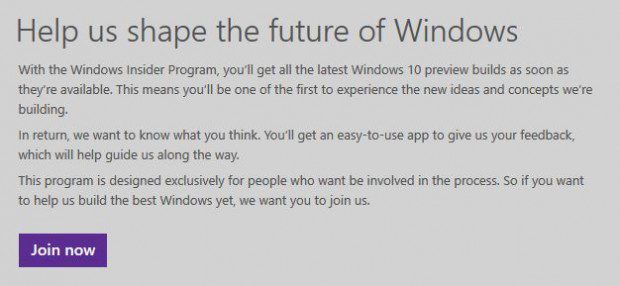 Microsoft will reportedly reveal Windows 10 for Phones at its January 21st event. Similar to what we saw with Windows 10 Technical Preview for PCs, users needed to be registered as an 'insider' to download early access builds for their Windows Phone devices. Last week, we reported about an app called "Phone Insider" which was spotted in the Windows Phone Store, published by Microsoft in November 2014.
As the app's description states, Windows Insiders will be able to receive pre-release OS updates on their phone using this app:
The Phone Insider application provides registered Windows Insiders the ability to receive pre-release OS updates on their phone, directly from Microsoft. For more information about registering and becoming a Windows Insider visit http://insider.windows.com.
Today, another app named "Windows Previewer Beta" was discovered in Windows Phone Store. Find the app description below,
The update provisioning application allows users to get early access to the latest Windows Phone updates for the purposes of providing feedback to Microsoft on current releases. Feedback is gathered automatically from the device by configuring your device for early access. For more information see the terms and conditions below.
Find the app here from Windows Phone Store. Microsoft has already confirmed that they are readying Insider program for Windows Phone users and they will be revealing more about it at the press event on Jan 21st. Are you ready to try out Windows 10 builds on your phone?
via: WPC