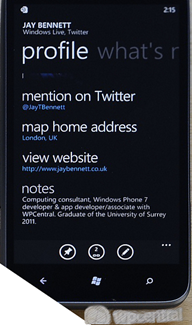 WPCentral has noticed that Microsoft has performed another tweak in the Windows Live back-end which now brings Twitter bios to the profiles in the People's hub.
Twitter bios are the small snippets of text which describe the  owner of the twitter account, and Microsoft makes good use of the Notes field to slot the data in.
The update follows Microsoft enabling off-line Facebook Messaging, a long requested feature, and again demonstrated that Microsoft can continue to provide new features to Windows Phone by developing cloud features without needing to upgrade the software on the phone in any way.
The Windows Live back-end will soon have a name change, but at the same time move to becoming a fundamental part of not only Windows Phone, but also Windows 8.
Via WPCentral.com