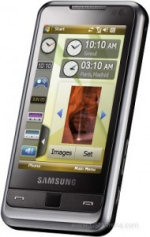 HardwareZone has published a great review of the Samsung Omnia.  The review includes some great comparison shots between the superphone and the HTC Touch Diamond and the Apple iPhone.
Their conclusion.
As we finalize our thoughts on this new Windows Mobile 6.1 device from Samsung, there will no doubt be a series of questions and concerns that could set you thinking on the Omnia's overall performance. The Omnia has a strong suite of usage interfaces that cater to almost every person on the block, and intuitiveness is part of the package here as seen with the Widget interface. Familiarity is also advocated for users who wish to stick to a tried and tested formula, and the no-frills "Samsung Today 2" interface is definitely top on our list as an interface that gets the job done right. But, to be a bit stringent on this aspect, interface tweaking can only do so much when you are faced with some sluggishness as you actually weave through the interface(s), and unfortunately, that's what we experienced with the Omnia.
However, barring the responsiveness issue, what got our noggins cooking as we reviewed the Omnia is the sheer amount of features that comes with it. DivX support on a wide 3.2-inch WQVGA screen for the constant traveler who seeks some multimedia entertainment, a built-in accelerometer that automatically orientates (though orientation sensitivity is a minor concern here) and a 5-megapixel camera coupled with an LED flash that should keep you entertained through the days. And for those who value aesthetics over functionality, there's no faulting the Omnia's simplistic, yet chic and slim look that should get some heads turning as you whip it out of your pocket. With the recent launch of the HTC Touch Diamond , and upcoming Windows Mobile devices such as the Sony Ericsson Xperia X1 and of course, the hot topic of the coming months, the iPhone 3G, the Omnia is only one of the many devices that will be vying for your attention, but grab your attention it will, with its recommended retail pricing of S$1098 for the 16GB iteration.
It's a good phone overall and plenty of features that should strike your interest, but marred by the sluggish software. We would personally recommend you to try a demo set at a retail store to check if the lag is tolerable. But if you can get over this aspect, the Omnia is a pretty phone that should impress you and others.
Read the full review here.