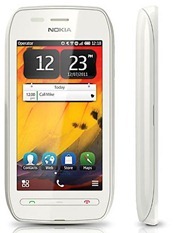 WPCentral have been sent this supposed leaked shot of the Nokia Sabre, showing the device to feature a very small 3.5 inch screen.
The device also lacks any way to switch cameras, indicating no front facing camera.
On the other hand, the strategic location of that thumb over the Windows key does make me rather suspicious of a hoax, especially given the resemblance of the handset to the recently released Nokia 603 (right).
Do our readers think the device is real, or just Nokia throwing us off the trail? Let us know below.
Via Liveside.net