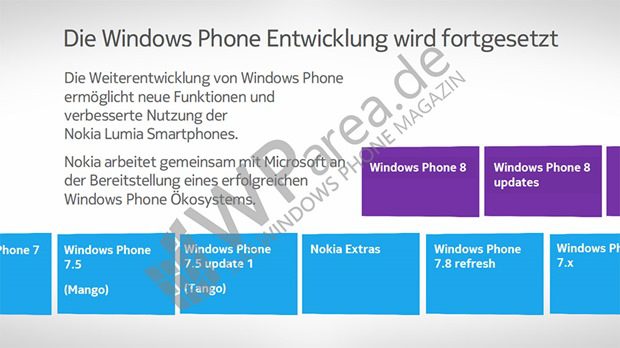 Nokia is leaking like a sieve, and the latest slide (yes, another one) shows the developmental roadmap of Windows Phone, and have a few interesting titbits.
From a 25 page slide deck that does not reveal anything else new, the slide appears to indicate that after Windows Phone 7.8 there will be further Windows Phone 7 update, tentatively called Windows Phone 7.x.
This idea is somewhat supported by recent utterances by the official Windows Phone Russia twitter account, which claimed there will be 18 months of support for Windows Phone 7.8 phones (via WinPhoneLive.ru).
The slide also shows that we can expect multiple updates to Windows Phone 8, presumably iterating on the same kernel, and bringing that notification centre which Microsoft was unable to finish on time.
Coming back to Windows Phone 7.8, Nokia presumably intends to sell low-end phones running the OS and further updates for some time, and has already had some success with it in the form of the Nokia Lumia 610, but we do wonder how long the market will continue to accept these handsets, given how rapidly it rejected low-end Symbian handsets.
via WPArea.de