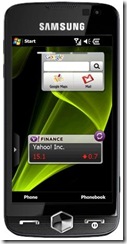 PhoneArena has published a detailed review of the Samsung Omnia 2, and while they found a lot to like about the device, they found the home screen in particular managed to overwhelm the processor, even running at 800 Mhz.
When we said that the Start button was the only thing that gave away this being a Windows Mobile device we told a white lie.  Despite the beefed up processing power the spinning WinMo beach ball still pops up at times and this is most noticeable on the homescreen. Within the menus we rarely saw it, but flicking from homepage to homepage produces a 5-10 second delay while waiting for the widgets to load, which is infuriating.  The widgets are a great idea, and some of them (like AccuWeather and Google) are very helpful, but it's just not quick enough.  Furthermore, we often found ourselves pressing options two and three times to activate them and not being able to drag widgets around unless they were pressed just right.  This problem was only in the homescreen (here we really missed HTC's TouchFLO 3D), throughout the rest of the phone it was very responsive and accurate.
The review covers much of the interesting software found on the device, such as the SmartReader application:
There is a very interesting Smart Reader application which will not only scan business cards, but also documents and will even translate words captured with the camera (in our review unit's case, from English to French and vice versa.) 
They eventually concluded:
The Samsung Omnia II I8000 comes very close to nailing it, but there are a few things that really hold it back.  First and foremost is the lag, especially on the homescreen.  It is bad enough at times to ruin the entire user experience. Still, Samsung has done a great job of penetrating the Windows Mobile interface.  The menus are a joy to use, and they go much deeper than any Windows Mobile overhaul we've seen.  If they could take care of the front end as well as HTC has with TouchFLO 3D they might just have a true winner on their hands.  As of now however, they have a great phone that needs some software optimization badly.
Interestingly, despite scoring very high in nearly every category, the phone still only scored 8/10 overall.
Read the full 4 page review here.