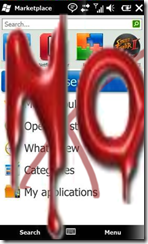 1800PocketPC interviewed Jörg Michel from Ageye Apps, who produce apps like G-Alarm, G-Weather, about their absence from the Windows Mobile Marketplace
Jörg complained that Microsoft was quick to take fees, and rather a lot of it, but that marketplace came with many restrictions (no today plugins were allowed, no registry changes in HKEY_LOCAL_MACHINE and so on) which made it difficult for many of his applications to work.
Microsoft eventually did relax many of the restrictions however, and Microsoft's 20 000 euro developer competition did eventually prompt him to jump on board, but that is where the good news ended. So far his application has stalled in the approval process, with no one at Microsoft taking responsibility for Marketplace it seems.
He goes on to complain about the lack of proper protection for his apps, saying:
The conditions for the developers are bad – they need to put installation packages online which are not protected by any serial or internet activation. The cab files can be easily obtained by hackers. Probably in the next months the warez boards are full of unprotected Marketplace version of all programs and Microsoft does nothing.
Jörg does fortunately go on to say he still has no intention to jump ship to other platforms, but notes that unlike on other platforms where there is no other channel for developers to consumers, Windows Mobile developers do not need Marketplace, and do not need to put up with all this hassle.
In short, Microsoft needed them more than they needed Microsoft, and the company needed to up their game if they wanted Marketplace to be competitive.
Read the full interview with much more here.