Windows Phone 8.1.1 and Android 5.0 a.k.a Lollipop have been the best versions so far for the both Microsoft's Windows Phone and Google's Android operating system. If one were to be simple, one could say that Android is packed with every feature and customizability option under the sun while Windows Phone is cleaner, lightweight and more efficient. But that would be simplifying. Both of the operating systems were already pretty good and the latest updates bring them much closer together. So which one is the best? Let's find out.
User Interface
When it comes to UI, Android and iOS looks similar, they both share the tried and true grid of icons approach.  Windows Phone (or Metro) takes a different – some may say daring- approach with the user interface. While Windows Phone has certainly been more beautiful over the years, Android Lollipop finally catches up with material design. Here Google introduces more animations and colors to the UI  making Android feel almost as cohesive as Windows Phone and iOS in terms of design.  Without bogging you down in details, the UI of Android 5.0 is beautiful, smooth and colorful. It certainly deserves the name Lollipop.
As I stated earlier, the Windows Phone UI is very different  from Android (or even iOS). Windows Phone 8.1 brings several changes to the user interface. Microsoft introduced start screen background with Windows Phone 8.1 which makes the start screen look a lot different than it was before. In fact, if you use a Windows Phone 8 device now, you'll probably think "What, did I really like this UI?" Unlike Android Lollipop, animations on Windows Phone is an old feature — though, I would like to see some improvements on animations with Windows 10 for Phones. Currently, Windows Phone is clearly not as colorful as Android nor is Android as minimalistic as Windows Phone. Which one you would prefer is up to you, they are vastly different philosophies.
Features
Windows Phone comes with several unique features. Android, on the other hand, is filled with tons of features. However, Windows Phone 8.1 lags behind a bit when it comes to features. With Windows Phone 8.1, Microsoft introduced a notification center, battery sense, Wi-Fi sense and handful of new features. Google wowed the audience with Android 5.0 — there is actionable notifications (a.k.a heads-up notifications), smart lock, improved battery saver, heads-up notifications and much more.
So what features do I like on both of the operating systems? I, personally love the notification center on Windows Phone 8.1. Cortana is another feature that I love on Windows Phone 8.1. Including that, I really love battery sense and the  data sense app. Windows Phone 8.1 also comes with the ability to change the start screen background – which I really love to use.
I also love couple of features on Android 5.0. The Smart Lock and actionable notifications on Android 5.0 is simply awesome. In case you didn't know, Smart Lock allows you to easily access your Android smartphone if you're near a 'trusted device'. The actionable notification is one of the best feature on Android 5.0 — it basically lets the user interact with the notification. For example, if you're playing a game and you receive a message, a small notification will pop-up at the top of your screen and you can reply from the notification – without even closing the game.
It's worth mentioning that Android comes with tons of features for the 'power users' as well. The operating system allows the users to change the default apps. For example, if you don't like any default app on the operating system, you can easily download a third-party app from the Play Store and select it as a default app.
Android 5.0 and Windows Phone 8.1 brings tons of new features. Windows Phone 8.1 is a bit behind. Though we definitely expect to see a bunch of new additions to the operating system with the upcoming version.
Performance
When it comes to performance, no other operating system can beat Windows Phone. Android is quite slow and 'laggy'. I used Android Lollipop on a Nexus 5, Moto G (2013) and even the HTC One M8. The operating system was very fast on the HTC One M8 and Nexus 5. However, the operating system lags on low-end devices like the Moto G. As I stated, Windows Phone is truly the most optimized operating system. It's fast and sleek on high-end devices and even on low-end devices.
Cortana vs. Google Now
Android 5.0 and Windows Phone 8.1 comes with a virtual personal assistant. Google introduced Google Now with Android KitKat, but Cortana was introduced with Windows Phone 8.1. Both of the personal assistants are very smart and cute. However, Cortana is a bit ahead of Google Now when it comes to reminders. With Cortana, you  can set reminders based on several different things, such as location, contact and even traffic. App developers can also integrate their app with Cortana – allowing the user to take advantage of Cortana's smart voice command feature.
Google Now, on the other hand, doesn't come with smart reminders. However, the personal assistant can remind users based on location (and time, of course). It's worth mentioning that Google's powerful search features come with the personal assistant as well. Google Now also comes with an "OK Google" hot-word detection – allowing the user to search anything pretty easily. Both of the personal assistants will show you articles, stocks and team stats based on your interests. However, Google Now takes a different approach and shows different 'cards' based on your browsing history. Though you can add interest to get updates on a certain topic.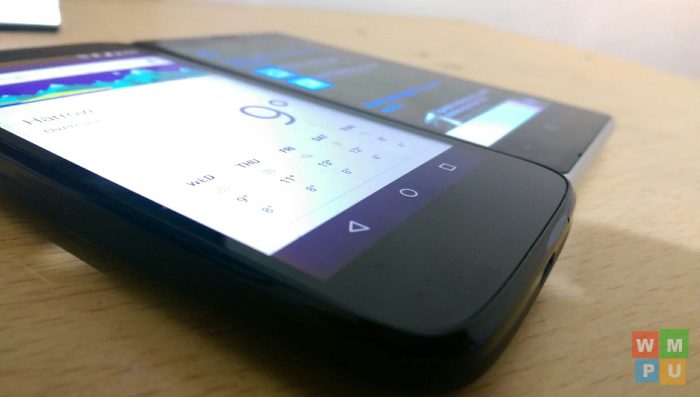 Cortana and Google Now is pretty good, but there are tons of room for improvement. Cortana is still in beta and Microsoft has been continuously updating the personal assistant with new features.
App Stores
Windows Phone has struggled a bit for its range of apps. Some of the popular apps aren't available on the Windows Phone Store. However, there are some brilliant third-party apps available in the store. Microsoft has also produced some great apps and the third-party apps make the Windows Phone Store much better. With Windows Phone 8.1, Microsoft has improved the Windows Phone Store with several UI improvements.
The Google Play Store includes tons and tons of apps. There is apps for almost everything you can think of. The Windows Phone store is more limited in size, but it also still has lots of great apps to choose from.. Both of the app stores are great in their own way- Play Store is already big and Windows Phone Store is getting bigger and better better very quickly.
---
Conclusion
Windows Phone 8.1 and Android Lollipop are awesome. Android Lollipop is a candy land full of color and sleek animation whereas Windows Phone 8.1 is simple, but unique. Both of the operating system has its own ecosystem, personal assistant and unique features. Android Lollipop is a bit ahead when it comes to features and customizations. Windows Phone 8.1, on the other hand, is great for performance and productivity. Which operating system do you prefer? Let us know in the comment section below.