1)Have you developed Apps for any other platforms before?If Yes What are they?
Yes, Windows Mobile 6.0-6.5, iPhone, Android and Java ME.
2)Why did you choose WP7 as a platform of your choice?
WP7 is a revolutionary step for mobile phones, which allows easy and fast development of well integrated and nice looking applications.
3)Which one do you think as the single most feature you liked in WP7?
Separation of user interface design (Silverlight) and code (C#) with a beautiful class library (.NET).
4)Are you satisfied with WP7 Platform development tools?
Yes.
5)What are the Apps you are developing now in WP7?
Skreeky, PhotoMezz and SkiersApp.
6)In what way Microsoft can improve their WP7 or What does WP7 lacks from?
Cross platform publishing of applications by adding the possibility to either run WP7 applications natively on other mobile platforms or assist in converting them so they can be built and published there.
7)Future Plans of you?
Extend current applications and bring new ideas and applications to the market.
He also shared usage of map of this app.Here it is.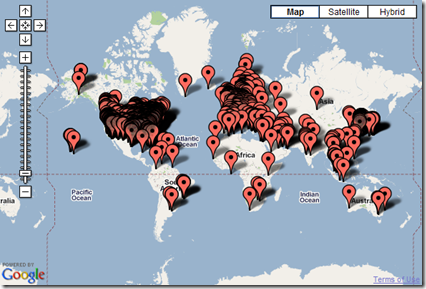 You can find more details at
Twitter: skreeky (link http://twitter.com/skreeky)
Facebook group: http://tinyurl.com/skreeky
Thanks Johan for sharing with us.All the best for your future works.