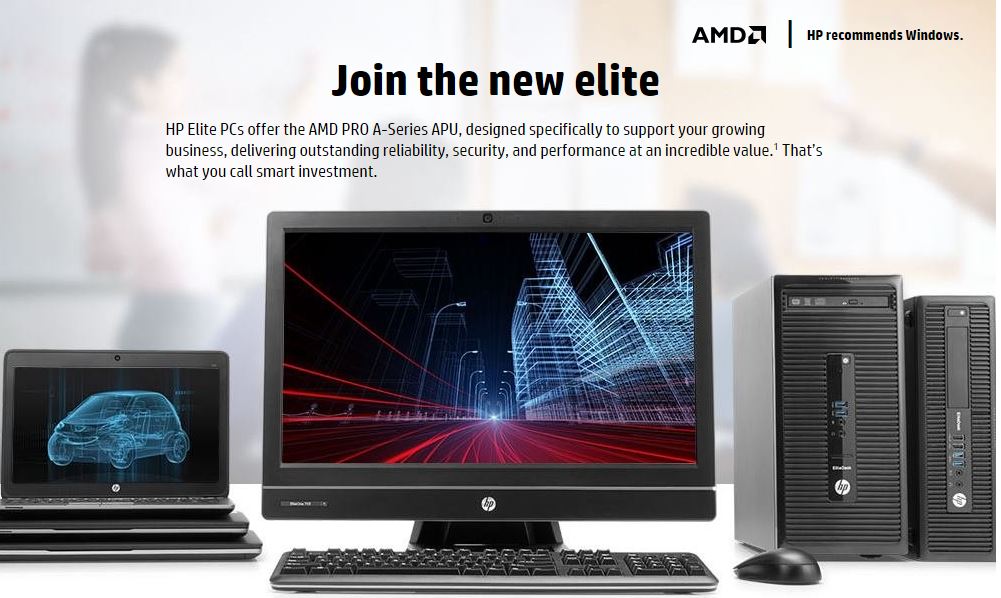 At the Canalys Channels Forum AMD, AMD announced the first PCs featuring 7th Generation AMD PRO APUs (formerly codenamed "Bristol Ridge PRO") targeting business customers. These processors deliver increased computing and graphics performance, improved energy efficiency, while providing a secure and stable platform to protect customers' IT investments.
7th Generation AMD PRO processors tackle business needs in three key areas:
Help ensure sensitive data and trusted applications remain secure with the dedicated and integrated AMD Secure Processor technology; a system-wide secure environment that offloads and isolates security functions, providing an independent hardware-based root of trust for secure boot, content protection, application security, and fTPM 2.0 (firmware trusted platform module).
To meet users' growing compute and graphic demands, new AMD PRO desktop processors provide up to 14% more compute and 22% more graphic performance while being up to 32% more energy efficient than 6th generation AMD PRO processors2.
Open standards and CPU-agnostic DASH manageability allows IT departments to easily integrate and manage systems. The new AMD AM4 desktop infrastructure provides a stable and upgradable platform for the future.
They also announced new PCs from HP and Lenovo featuring these processors that combine commercial-grade  quality, performance, and stability, with exceptional video and audio capabilities enabling businesses to achieve more across key areas including productivity, manageability, and collaboration.