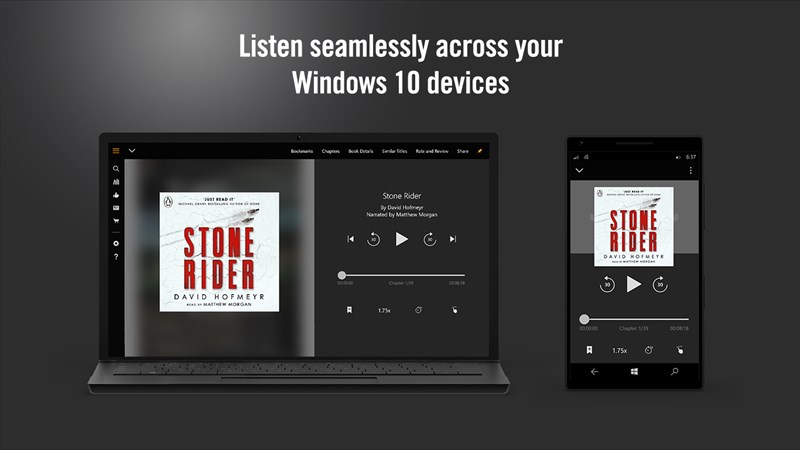 Amazon today announced that Amazon Prime members now enjoy unlimited free access to the new short-form digital audio service, Audible Channels, as well as a rotating selection of more than 50 audiobooks from Audible's catalog. You can access Audible Channels for Prime by downloading the Audible app for Windows 10 using the link at the bottom of this post.

Audible Channels features a consistently refreshed, thoughtfully organized selection of original programs, distinctive comedy, lectures, and audio editions of standout articles and news from The Wall Street Journal, The New York Times, Harvard Business Review, Foreign Affairs, Charlie Rose, McSweeney's, The Onion, and other leading periodicals.
The lineup of ad-free programming includes:
Presidents are People Too!, a series that transforms U.S. Presidents into real-life people complete with quirks, flaws, triumphs, scandals and bodily ailments, hosted by former "The Daily Show" head writer Elliott Kalan and American historian Alexis Coe
Bedtime Stories for Cynics, inappropriate children's stories for adults only, presented by Nick Offerman of "Parks and Recreation" fame
Hold On with Eugene Mirman, in which Mirman pauses funny live stories and gets his special comedian guests, including Jim Gaffigan and "Weird Al" Yankovic to divulge new details
Limelight, highlighting the best new standup performances from comedy clubs across the country, with rotating guest hosts such as T. J. Miller, Ron Funches and the Sklar Brothers
Lectures from The Great Courses
Prime members will also discover the first episodes or previews of the following original programs, subsequent episodes of which they'll be able to explore and enjoy for free in the coming months:
The Butterfly Effect, hosted by Jon Ronson, which explores the question, what happens when we expect things for free?
Ponzi Supernova, a fascinating look at Bernard Madoff, the man behind the largest Ponzi scheme in history, featuring exclusive jailhouse interviews with Madoff himself
Damned Spot, a series that examines the afterlife of places defined by tragic events
West Cork, a true crime series about an unsolved society murder, set on the south coast of Ireland
Extra Credit with Neal Pollack, in which the author, musician and comedian takes his 13-year-old son's education into his own hands, and hilarity ensues
Download the app from Windows Store using the below link. If you are not a Amazon Prime member, you sign-up here and enjoy tons of exclusive benefits.