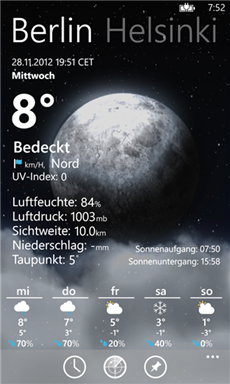 Amazing weather, a very good and well-designed weather app, just got updated and is now called Amazing Weather HD.
What I noticed so far is that the Live Tile and the UI of the app look much sharper and clearer and that it appears optimized for HD resolutions. Before the update, the Live Tile as well as the UI were unclear and fuzzy due to the lack of high-resolution elements (like icons etc.) which Windows Phone 8's HD resolutions need. Also, the Tile can now be resized.
However, not only the look has improved, the performance also. The app feels a bit faster and smoother.
In my opinion, Amazing Weather was one of the best applications in the marketplace: a great quality for a not too expensive price. Now, thanks to the update, the application is even better. If you did not try amazing weather so far, take a look at this review and give it a try. There is also a free lite version available.
Amazing weather can be found here.