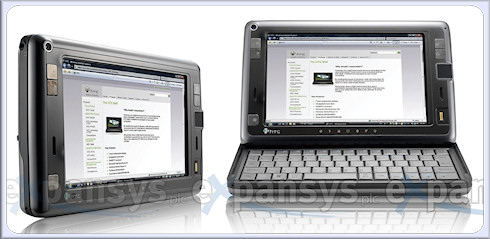 Expansys is again offering an amazing deal. The HTC Shift, one of the original UMPC's, is seeing an amazing £450 price drop to £499. The Vista powered mini-laptop with its Windows Mobile companion OS has been released more than a year ago, but no equivalent device has been released so far yet. Prices from other online stores range from £750 to £1100,  so it is an incredible deal.
It features a 7-inch touch screen and a QWERTY keyboard and can be used as a tablet PC or opened up and used like a normal laptop. It features built-in 3G and a  VGA port to hook it up to a larger monitor.
The device has an active community on  XDA-developers and a lot of work has gone into freeing the Windows Mobile side of the device, and this is now easily achievable using a Shiftpack and even Windows 7 beta has been run on the device.
To take advantage of this great deal (which will be available for a limited time only) read more at eXapansys.com here. (Affiliate link)