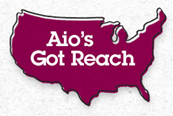 AT&T's low cost brand,  Aio Wireless, known for its low-cost no-contract phones and unlimited data plans, has so far only been limited to markets in Florida, Texas and the Metro-Atlanta area through over 200 dealer-owned Aio stores.
Now the company is expanding service to all U.S. customers starting in mid-September via their online store.
"We invite customers across the country to switch to Aio and experience our first class service with no annual contracts," said Jennifer Van Buskirk, president of Aio Wireless. "We want to make it easy for consumers almost anywhere in the US to get great value in their wireless service, with the network coverage and experience they deserve, and devices they can be proud to own."
Aio WIreless is the only carrier in the US to offer the Nokia Lumia 620, and only for $99. With their markets expanding the high quality handset may see the same kind of success the Nokia Lumia 521 has.
See the little handset at Aio Wireless here. Additionally, new customers who activate service in stores or online by September 29, 2013 will be able to participate in Aio's special Fall promotion and get their third month of service free.
Via Neowin.net