Agilelabs have just released a new finger-friendly Notes application for Windows Mobile.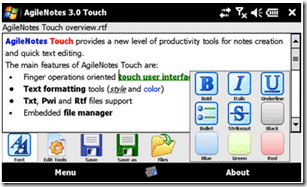 The main features are:
Finger operations oriented touch user interface

Text formatting and color tools

PWI, RTF and TXT files support

Embedded file manager with basic file operations support

WVGA and VGA support

WM5 (*), WM 6, WM 6.1 support
AgileNotes is optimized for WVGA and VGA devices (pocket pc and smartphones) with QWERTY hard keyboards (sliders) and touch screens.
There is both a pay version for $9.99 available and a free version with more limited functionality.
Read more at Agilelabs here.