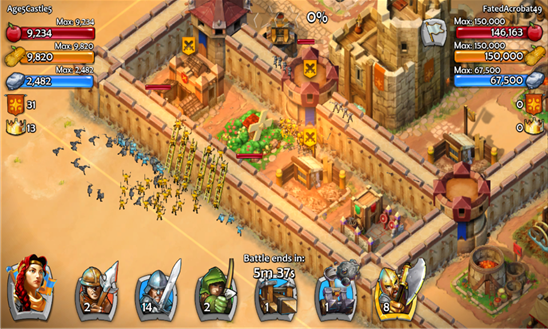 Age of Empires: Castle Siege game was updated to v1.8.0.42 in Windows Phone Store. This update brings in improved game play and lots of bug fixes. Find the full change log below.
v1.8 Patch Notes:
• Gold Starter Pack is now available. It will only be available for 3 days after initial offer.
• The ability to search for players by gamertag has been added.
• The Alliance Messages screen size has been increased.
• Hermann Van Salza's Shield Wall ability will no longer affect siege units.
• Joan's Convert ability will work correctly with John Kourkouas' Terrorize ability.
• When the Terrorize ability stops affecting Infantry squads assigned to Patrol Point, they now properly seek out targets.
• Using Henry V's ability on a building right before it is destroyed will no longer lock out the ability for the rest of battle.
• Spear Infantry no longer takes additional unintended damage from Cavalry.
• Fixed an issue where defending units would sometimes stutter-step when trying to select a target after a castle breach.
• Charles Martel's Taunt ability will no longer make targets immobile.
Download it here from Windows Phone Store for free.