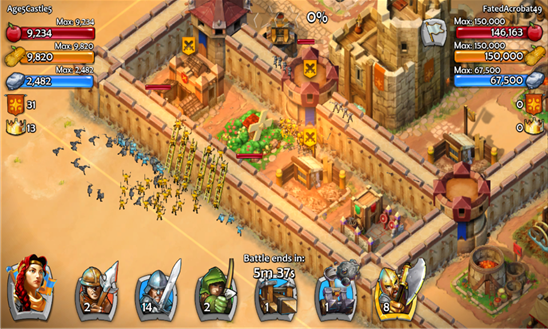 Age of Empires: Castle Siege game was updated to v1.0.4.135 in Windows Phone Store. This is a much needed update for this new game which improves both stability and gameplay. Find the full list of changes in this update below.
Key changes:
Stability:
– Made improvements to dropped connections during battle. This is an area that we are constantly monitoring and improving.
– Fixed a crash caused on some devices by deploying many infantry at once at the opening of battle.
– Fixed a crash during transitions in matchmaking.
– Fixed a crash involving soldiers leaving siege towers.
– Fixed other miscellaneous crashes.

Gameplay:
– We've modified the way we award crowns for players in Ages 5-8.
– Wall troops have undergone a strict training regimen against the wiles of the Wololo. As a result, Joan of Arc's Convert ability no longer affects troops on walls.
– Keeps have bolstered their defenses against mounted troops.
– Winrich von Kniprode has found a flaw in these new defenses and now has a damage boost against all Keeps.
– Richard the Lionheart no longer feels it is an efficient use of his skills to boost mounted troops and will now only boost infantry as per his description.
– Fixed various path finding bugs.

General:
– Players will no longer gain achievements from visiting another player's castle.
– Phone notifications improvements.
For a limited time, all new players of Age of Empires: Castle Siege will receive bonus starting Gold upon creation of their Empire. Download it here from Windows Phone Store for free.