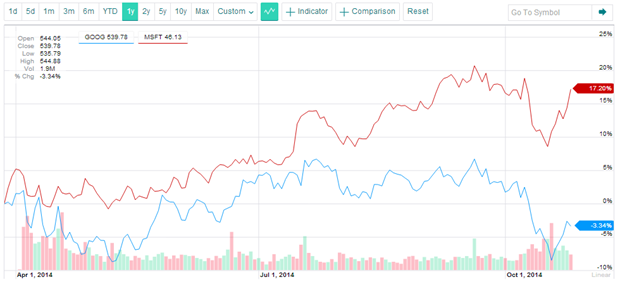 Microsoft announced their earnings yesterday, and the announcement was met with quite a bit of enthusiasm in after hours trading.
Now a full day of trading later Microsoft was able to hold on to their gains, being up 2.47% for the day, with a market cap of $380 billion.
Google on the other hand, who disappointed with poor performance due to issues with monetizing mobile, is down 0.77% with a market cap of $366 billion in what was generally an up day.
While Google is a very diverse company with fingers in too many pots, its main source of income remains the ad market, which has been adversely affected by the move to mobile, which sees much poorer engagement with ads.
Microsoft has on the other hand remained very focussed on businesses which earn money, and who has just seen the Surface turn into a profitable close to billion dollar business, has been much more resilient to issues such as the down turn in Windows PCs.
Hopefully investor confidence will also spill over into increased consumer update for Microsoft's technologies.