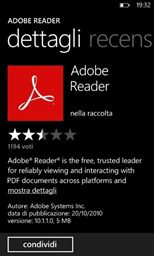 Plaffo.com reports that Adobe is pushing out another update for their Windows Phone PDF reader, taking it up to version 10.1.1.
No change log has been revealed, but hopefully it addresses issues with some devices where the app was not functional at all.
The update follows a recent massive update which added added a file browser, better navigation and search and the ability to open password-protected PDFs, and it is amusing to think that Adobe may be potentially updating their Windows Phone client as often as their Windows client, and with just as few obvious changes.
Have any of our readers received the update, and did anybody notice any difference? Let us know below.
The app can be found in Marketplace here.
Thanks Giuseppe for the screen shot.