Microsoft's Windows 10 Mobile is finally released, and AdDuplex has out together a set of stats to allow us to figure out what that means for us. Now AdDuplex is not an officially sanctioned data-source, nor are they omniscient , however they have a large enough sample size to make them a reliable source for statistics.
We won't overly trouble you with Windows phone marketshare distributions, that's not interesting and there's nothing new to be gleaned for casual readers. Rather, we're looking at the Windows 10 Mobile update patterns, both in devices that can be upgraded, and devices that have been updated.
Gallery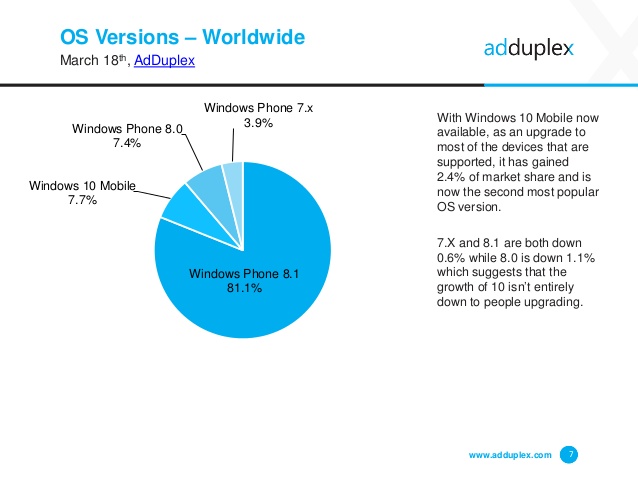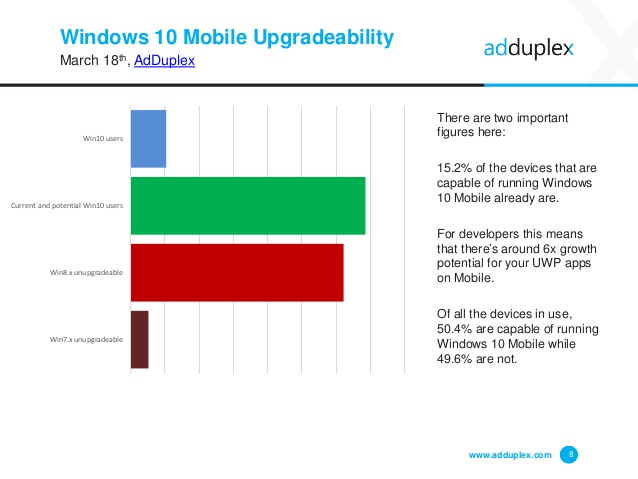 AdDuplex identifies the current Windows 10 Mobile update base as having grown to 7.7%, up from 5.3% last month. This growth isn't entirely due to upgrades as AdDuplex notes that Windows Phone 8.1 has lost 1.1% and WP7 and 8 have lost 1.2% cumulatively. As neither 8 nor 7 can convert to Windows 10, at least some of the growth must have come from new devices.
While some readers may be perplexed at the slow growth of Windows 10 Mobile via new devices, Microsoft's new Lumias aren't the most impressive devices compared to their older ones, Looking at Microsoft's sites, the Lumia 930 and related hold a ~90% approval rate while the Lumia 950 and related struggle with 70% on average. Neither reviewers or users are really happy with any of the Lumia family, so that contributes to the slow sales of those devices.
The other factor is that the new devices from other OEMs really haven't debuted yet. They have been shown off, but besides Alcatel's Fierce XL,  most are due to go on sale on April and later in the year .
In terms of devices that can update, Microsoft has released a list of devices for which updates can be guaranteed. HTC will not be updating its HTC One M8 flagship – breaking its two-year guaranteed update policy – because it is not cost-effective for the firm to do so. Most OEMs are following the same path, with only Blu confirmed to be updating a single phone not on the list (the Blu Win Jr 1GB variant). When all this is taken into account, Windows 10 Mobile caps out at roughly 50% of the Windows Phone userbase. Whether that's good or bad, depends on what side of the divide you're standing on.A Lumia 1020 owner mught be dissatisfied at the lack of an upgrade path, as will one with a HTC One M8 and Ativ SE.
AdDuplex also has more detailed statistics about which devices are popular in which country and by how much, but there's little change from the past 2 years and not really a need to rehash it here.
You can read the full report from the source link below.