It's that time of the month for Ad duplex to release its statistics on the Windows Phone ecosystem , and it does not disappoint. Today we'll be taking a look at Windows Phone in the EU5, the US and along with the breakdown of new Windows Phone OEMs.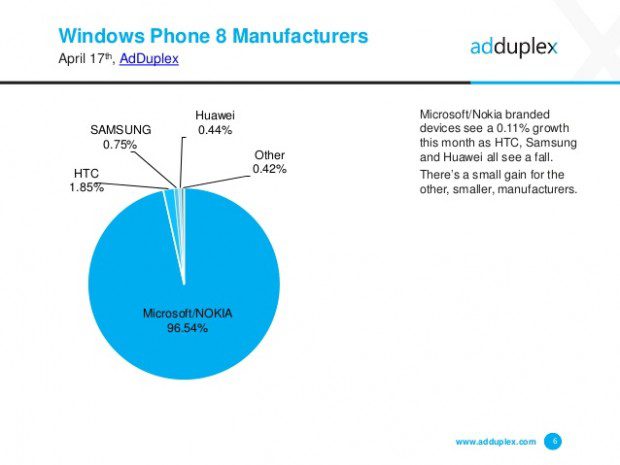 The balance of Windows Phone OEMs remains as it was. Lumia devices lead the pack with HTC, Samsung and Huawei picking up the rear. This month the latter three continued to fall – as they have not been making Windows devices for a while – and the "other" (smaller OEMS ) category grew.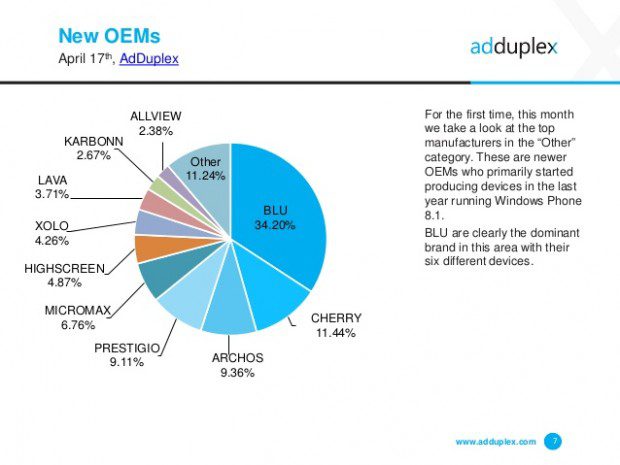 This month Ad duplex broke down the statistics from the "other" category so we could see the top 10 manufacturers. Blu is top with 6 devices released so far, Cherry Mobile is silver and Archos brings up bronze.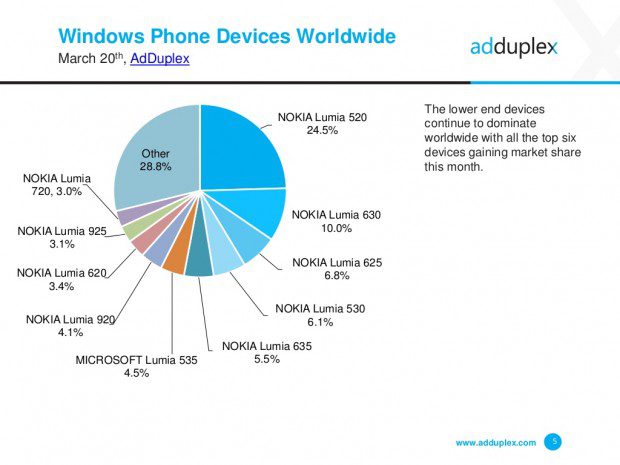 There's nothing interesting to be said about the Windows Phone device breakdown. Its the same as last month with lower end devices consolidating their marketshare.
This month, Ad duplex shows us a look at the EU5 statistics as a whole. While the low-end devices do dominate- as they do everywhere – 15 percent of the top 10 is dominated by flagships, a trend which repeats itself in the US as well.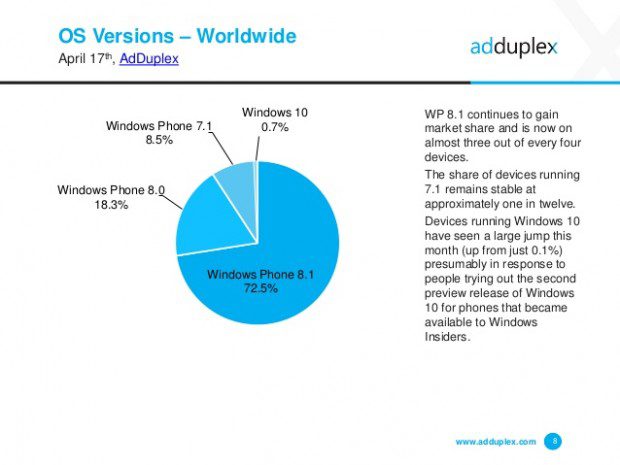 Finally, we get a look at the OS versions with Windows Phone 8.1 at 72.5 percent and Windows 10 at  0.7 percent. We should point out that Microsoft's own stats  which we previously covered place Windows Phone 8.1 devices at 80 percent, slightly higher than Ad duplex's stats here but similar enough to allow for a margin of error.
Now, after a deluge of low-end devices for the past year, there  is finally a light at the end of the tunnel of mediocrity. Ad duplex has spotted a phablet. the RM-1085. This device runs Windows 10 mobile and has a 1080p 5.7 inch screen. WhIle there have been a few rumours in the recent past, this is the first time something concrete has finally come up as the summer timeline for Elop's promise approaches.
Check out the rest of the stats here.