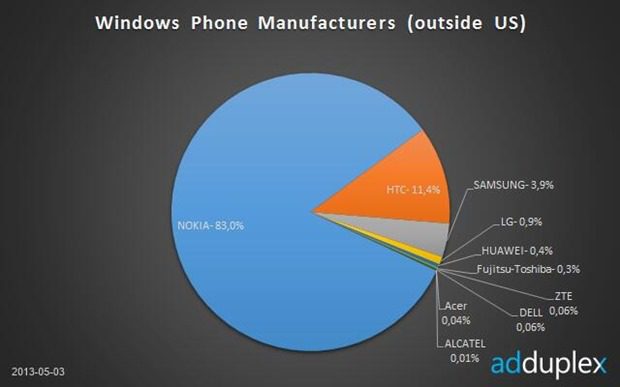 AdDuplex has released some teaser data from their network taken from the 3rd May.  Their data shows that Nokia now has 83% of all Windows Phones in active use outside of USA. Given that HTC is only really competitive with Nokia in USA this dominance is not really surprising.
HTC holds 11.4% of the market, while Samsung, the largest smartphone OEM in the world by far, only holds 3.9%.
The other teaser released by AdDuplex is somewhat more unexpected and interesting.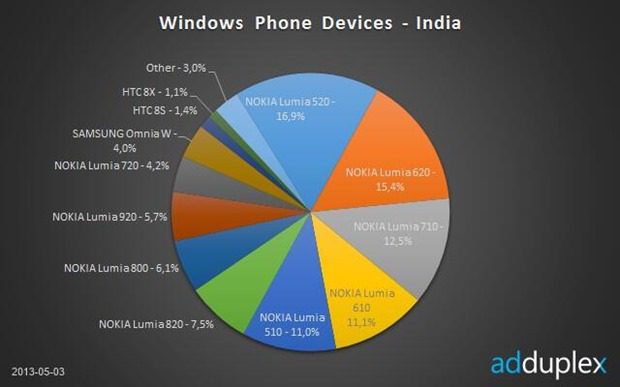 According to their data the Nokia Lumia 520, released only a month ago, has already taken 16.9% of the market, taking first place ahead of the Nokia Lumia 620, at 15.4%.
The data shows that the majority of handsets in India now run Windows Phone 8, at more than 52%, and that Nokia had more than 90% of the market there.  It also suggests Nokia sold more handsets in the first few months of 2013 than they did in the whole of 2012 there.
The rapid ascend of the Nokia Lumia 520 may indicate that this the breakthrough device that Nokia needs to help convert their Symbian and S40 installed base to their new Windows Phone offerings rather than losing them to Android.
AdDuplex should release their full report shortly.