AdDuplex stats for March are out, and the results are about as predictable as could be. The low-end devices completely dominate world wide now with the top six spots filled by the Lumia 520, 630, 625, 530, 635 and 535. The Lumia 520's grip on the top is especially strong considering it is a 2 year old device which has been replaced by newer and more powerful models.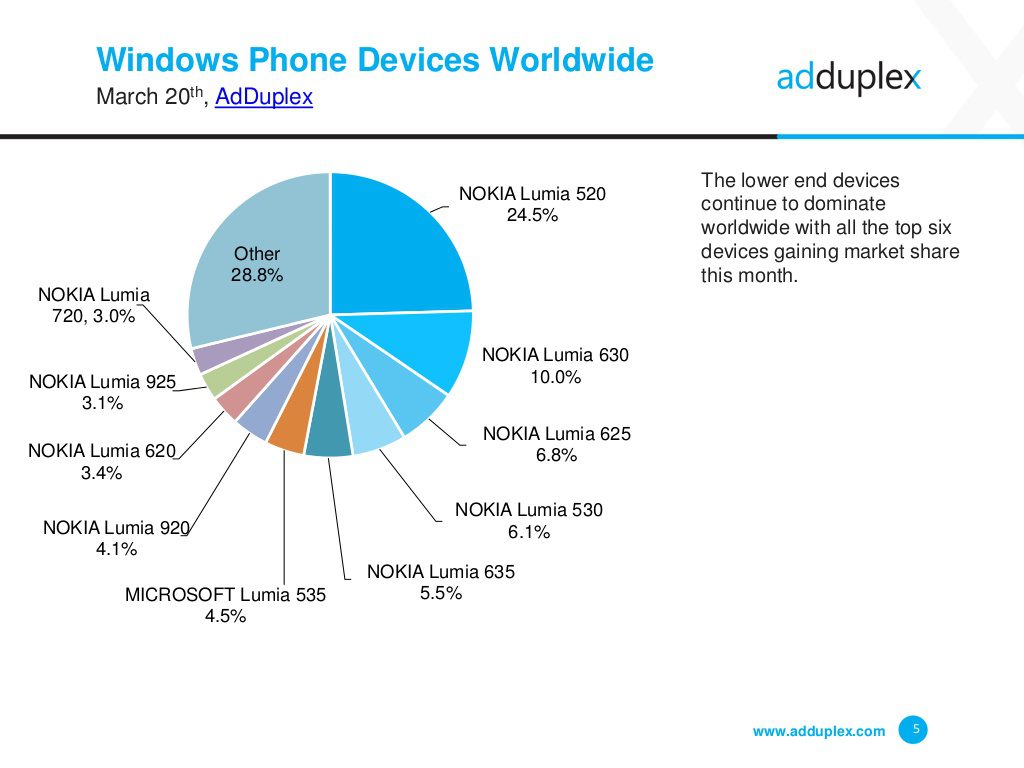 The Lumia 63x continue their rise to the top, now offering a combined marketshare of 15.5 percent. The next rising star is the Microsoft Lumia 535, unencumbered by its change in branding, has quickly shot up to account for 4.5 percent of Windows marketshare. As the 435 and 532 haven't been out long enough to make any effect, it should be interesting to see how the landscape of the Windows Phone (lets face it- Lumia) market should look in a few months.
Device manufacturer wise, Microsoft devices continue to dominate the other OEMs. One year after Microsoft's announced new OEMs, it seems these OEMs are not having much effect on the status quo of Windows Phone. Predictably, Samsung and HTC lose Windows Phone marketshare – not very shocking considering they aren't pushing any products at the moment.
Windows Phone 8.1 is now on 70 percent of all devices  due to the roll out of the Lumia Cyan and Denim updates and Microsoft's new embracing of critical updates which forcibly install updates on your phone.
The US shows a similar device story as the worldwide statistics, the Lumia 63x takes the gold here with the 52x series falling just ever so slightly behind and the 530 following shortly. The lower half of the top 10 consist of older flagship devices with neither the HTC One M8 for Windows or the Lumia 830 showing up in any significant capacity.
All other countries show similar results, the top 5 are full of low-end devices and the bottom half of the top 10 consist of a smattering of mid-high end devices, varying from country to country.
The statistics are interesting as they are predictable, with Microsoft pushing the low-end market hard and not really focusing on the mid-high end device market, the low-end dominates. Other non-Lumia OEMs do not put as much effort into Windows Phone due to many of them being small local OEMs and so have not been able to make a dent in Windows Phone marketshare. Whether this results in them pulling out like Huawei or doubling heir efforts to stand out is yet to be seen.
See the full report here.