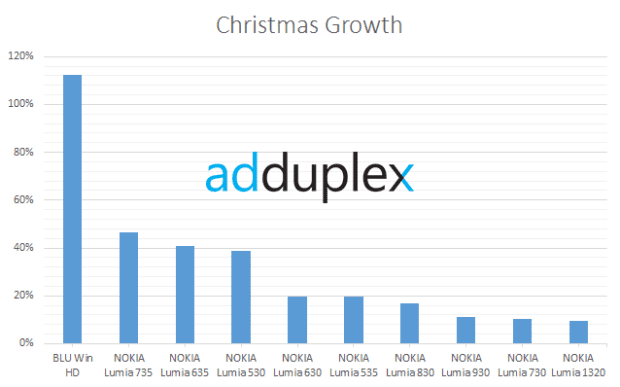 AdDuplex today released couple of interesting stats regarding Windows Phone platform for the Christmas period. When we look at the phone models that have grown as much or more compared to December 24th, BLU Win HD, Lumia 735, Lumia 635 and Lumia 530 were at the top positions. Don't overlook the chart above, BLU's phone total installs per day are in the hundreds compared to thousands and tens of thousands for Lumia models.
If we look at the growth in absolute numbers it is all in the lower end: Lumia 530, 520, 630, 635 and 625. With Lumia 735 at #6 and BLU Win HD at #19.

Another interesting stat is that overall the growth in app installs was around 10% on average over December 25th and 26th.
Source: AdDuplex