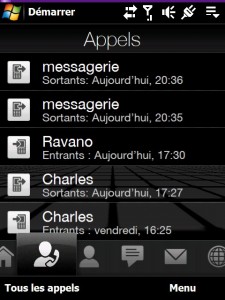 We have posted earlier a method of adding a handy call history tab to TouchFlo3D.  Now a simpler method that just involves the installation of a .cab file has been created by XDA-Developer resident Nadavi.
Simply download the cab from here.
Disable TouchFlo3D by going into Settings>Today>Items and deselecting it.
Copy the .cab file over to your device, find it using the file manager and tap on it to install it.
Soft reset your device.
Re-enable TouchFlo3DÂ  by going to Settings>Today>Items and selecting it again.
You should have a brand spanking new Call History tab next to your Home tab now.
To read more about this mod read the XDA-Developers thread here.