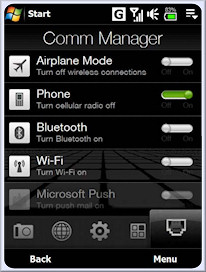 The TouchFlo3D hacks keep rolling in, and despite no support whatsoever from HTC the UI is slowly becoming as customizable as the old Today screen used to be.
The latest add-on is a hack to add the Comm Manager to the list of TouchFlo3D tabs, instead of being one level lower in the settings page. This is especially convenient if you are constantly switching WIFI on and off.
The installation is via a simple cab, available in this XDA-Developer thread. Before installation disable TouchFlo3D by going into Settings>Today, and re-enable it after the installation. Be warned however that the cab does not play well with other TouchFlo3D customizations, and will likely erase them. However if this is your first hack it will likely go swimmingly.
Source:Pocketnow.com (Who is doing a whole article on customizing the HTC Diamond)