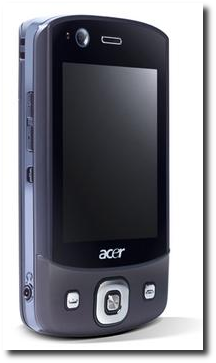 Remember the DX900 Eten unveiled last June back in Computex 2008? Well, the exact same device will make an appearance once more, at this year's Mobile World Congress in Barcelona in a couple of weeks. According to the French site Mobinaute, Acer who bought ETEN last September will unveil new Windows Mobile devices, including a rebranded version of the Eten DX900.
Nothing new is expected in terms of features or design except a slightly different colour range. Dual SIM, 2.8" VGA screen,  an SiRF Star III GPS chip, 3 mega pixels camera and Windows Mobile 6.1 are all expected on the new-but-not-really Acer device.
The Eten DX900 was already available in some markets, but you should now expect Acer to take full advantage of its huge distribution channels and ship the device globally.
We only hope that Acer will unveil as they promised, "even" better smartphones,  because we can't really see how the almost one year old DX900 could be any real competition to any of the expected HTC devices for the 2009.