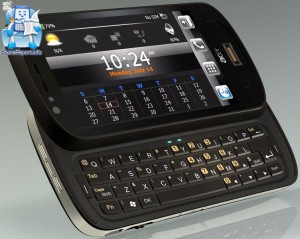 Here we have the Acer M900. This device looks to be aimed at the business user or the security conscience, boasting a Full QWERTY keyboard and fingerprint sensor, but is also sporting a 5MP camera with flash, 3.5 mm headphone jack, and some other multi-media goodness. What business user would not want all of that at their disposal? Has this device been underrated?
The device is rocking a huge 3.8 inch 800×480 flush screen, scrollwheel, and is thinner than the Touch Pro 2. Not to mention that this sucker is running WinMo Pro 6.1, and is already compatible with Windows Mobile 6.5! Sounds good to us.
The M900 is using the Samsung S3C 6410 mobile processor at 533 MHz, and although the UI looks remarkably familiar to SPB Mobile Shell, "Acer said that it is their proprietary platform sitting on Windows." Interesting.
Just for kicks, here is a full list of the specifications:
Genuine Windows Mobile® 6.1
Processor:Samsung S3C 6410 mobile processor (533 MHz)
System memory: 128 MB SDRAM for user applications and storage, 256 MB flash memory for operating system and embedded applications
Display:3.8? WVGA TFT LCD touch screen, 800 x 480 pixel resolution, 65536 colors
Expansion: microSDâ"¢ Card
Dimensions: 119 (L) x 62 (W) x 17.1 (H) mm
Weight: 188 g
Battery: Rechargeable lithium polymer battery, Capacity: 1530 mAh; Talk time: 3G: 5h depend on usage / 2G : 5h depend on usage; Standby: 160h depends on usage
CMOS camera: 5M pixels Auto-Focus with flashlight, up to 2560 x 1920 resolution
Audio: Built-in microphone, speaker
Communications: HSDPA Category 8/ HSUPA Category 5 ( 2100/1900/850 Mhz); GSM/EDGE: Quad-band, 850/900/1800/1900 MHz; GPRS/EGPRS: Class B, multi-slot class 11; WLAN: 802.11b/g Wi-Fi CERTIFIED® network connection; Bluetooth: Bluetooth® 2.0+EDR (Enhanced Data Rate)
GPS: SiRFstar III®
I/O interface: 3.5mm stereo jack / AC adapter, microSDâ"¢ Card, SIM card slot
Sensor: G-sensor
User interface:Acer Shell v2.0
Phone Tools: Phone settings, SIM toolkit, Speed dial, Call filter, Wireless modem, Communication manager
Add ringtone, CSD type, Voice commander, Connection wizard, SMS sender, MMS com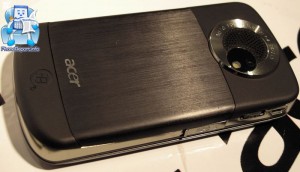 poser
SIM manager, Video Telephony
Multimedia tools: Pictures & Videos, Camera /Camcorder, Album, Streaming player, Media player
Utilities: Backup utility, Default Settings, Application recovery, Memory Optimization
In-box accessories: Mini USB headset, Mini USB sync cable, Mini USB AC adaptor, Battery pack
Optional accessories: Car mount kit
Overall the device looks pretty good and is easy to look at as well. What do our readers think? Will this device be able to compete in the open market? Has the Acer M900 not gotten the attention it deserves? Hit the comments and give us your thoughts.
For more information and pictures go here.