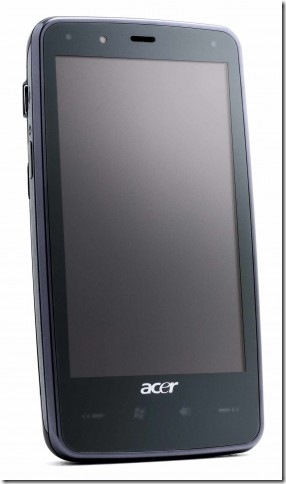 London, 3 June 2009 –Since its first debut at this year's Mobile World Congress in Barcelona, Acer F900, the third and newest addition to the Acer Tempo Smartphone Series, is now reaching global markets.
F900 was born to make mobile internet attractive and accessible. For users who want the web browsing outdoors to be as slick as it is indoors, the large 3.8 inch wide VGA screen is excellent for mobile browsing experience by displaying more of the web page on the screen at once and allows pictures and video to be viewed in finer details. Plus, new Internet Explorer® 6, with JavaScript™ and Adobe® Flash Lite™ support, provides extensive access to most websites like on your PC. High speed 3.75G HSDPA/HSUPA connectivity enables fast data transfer and a more enjoyable full on-line experience with rich multimedia, streamed content, messaging and instant search. F900 is the perfect solution for effective Internet connectivity anywhere.
F900 also comes with the new widget based Acer 2.0 User Interface for easy one-hand navigation. The concept of this innovative interface is to offer the flexibility of arranging your desktop the way you want it and to give you direct access to the applications you use most: one-touch phone calls, global weather and time zones with vivid 3D animation, jukebox music, interactive photo albums, and Bookmarks for direct access to the most visit websites. In addition, Acer's exclusive virtual Easy Keyboard makes composing emails and messages easier than ever while on the move.
Pre-installed Google™ mobile services: Google Search™, Google Maps™, and YouTube™, F900 provides one-touch access to the web applications. Also equipped with a location solution, you'll be able to see where you are and find directions, even when you're not using the GPS.
The Windows Mobile 6.1 powered Acer F900 will be available in the UK for a Suggested Recommended Retail Price  of £429 Inc VAT, and is currently listed on Expansys UK for £414.99 including VAT.
Via Slashgear.com