At Mobile World Congress Acer announced 4 devices coming very soon.  They also showed 4 other devices, but did not speak much about them. 
This is however changing, with Acer smartphone boss Aymar de Lencquesaing telling The Register a bit more about these mysterious devices.
First, for all the Android fans, the bad news is that they will all run Windows Mobile 6.5. Of course at WMPoweruser we could not be happier about this.
Secondly, all the devices will feature cameras and GPS.
The first device is the F1, which looks a lot like the HTC Touch HD (a lot!) and also features a 5 megapixel camera. Aymar de Lencquesaing calls it a "very slick high end device".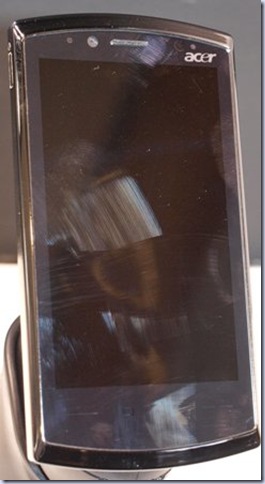 Next, at a slightly lower price is the L1, which is a portait slider with an keypad. de Lencquesaing describes it as having all the functionality of the top end device but in a more familiar format, at a more price sensitive point.
The next two devices, the C1 and the E1, will deliver "smart phone functionality at the same price as a feature phone" according to de Lencquesaing, who claimed consumers will be able to get both devices for no more than €49, presumable on contract.  The consumer-friendly devices will be available in multiple colours.
Devices should be shipping around the end of the third quarter at the latest, with further devices to come in the fourth quarter.
Read more at The Register.com