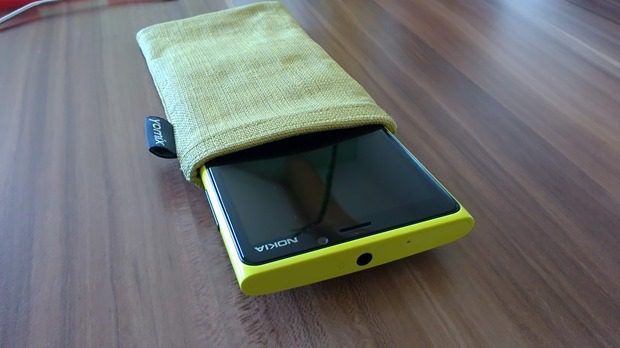 The Lumia 920 is a very tough device. With 180g of weight it's a real tank, in the best meaning of the word. Because it is made of polycarbonate and Gorilla Glass the phone is almost impossible to break. However, the 920 has one real enemy: Dust. Many people complain about dust in the FFC and some also report their proximity sensor stopped working because of this. Therefore, and maybe also because they just like it, some of you guys may want a slip case to protect their device.
For the same reason I got one myself. It had to look nice, be sleek and the phone had to be safe in there. So I heard about Yomix and took a look at their webpage. Yomix seems to be German only, but this should not be a problem if you live in the EU.
Yomix has a nice and big selection of bags for every kind of phone. I liked more than a few, but my choice finally fell on the "Calla Yellow" one (above).
This bag has a splash resistant (not waterproofed) surface. The inside is made of microfiber and cleans the phone's screen. The whole bag is really well made and high quality; no projecting threads or loose elements. Since the bag is made especially for the phone you select it fits perfectly and the material fits like a glove.
The bag looks nice, even though the yellow colour isn't the same as on my Lumia. This, however, is not an issue in my opinion. There's not much to say about the looks of a bag, except that it simply looks good.
Putting the phone in and taking it out isn't that easy, though. You need to pull and press a bit to make the phone slide smoothly. That, however, isn't too bad because it is just well protected, as already mentioned.
The slipcase can be purchased with or without Radiation Protection. The radiation protection is a pretty nice feature. When you order a version with it you will have an metallic net on one side of the bag. When you turn the bag with this side to your body when carrying it around it will catch up 99.9997% of the phone's radiation. Because the other side is still free the phone will work without any issues, but you will still be protected.
Anyways, the bag has one problem: it shrinks when you wash it. And you HAVE to wash it, because sand and dust may collect on the microfiber (especially now in the summer) which are the screens worst enemy. Yes, even Gorilla Glass isn't able to defend against sand.
When you use the bag regularly after washing it, it may return to normal again, but I think it's not good for the bag to change size all the time.
So, when you are searching for a bag for everyday usage, I would not really recommend Yomix's bags because of the sand problem. But if you want to use it from time to time only, maybe when going out or when it rains, the Yomix "Cella Yellow" bag is just right for you. The phone is well protected and the bag fits perfectly.
In case you want one of those bags now, you can order one at www.yomix.de  for 16.40 Euro without or 21.40 Euro with radiation protection shielding and free shipping.