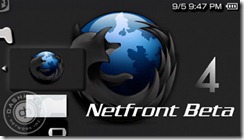 Before Opera Mobile 9.5 Access's Netfront browser was a real competitor in the then anaemic Windows Mobile browser arena.  Unfortunately the browser did not keep up with the times on Windows Mobile, and their latest 3.5 version has not won many over.
It seems Access is now set to bring their latest version Netfront 4.0, which has been seen on the PSP previously, over to Windows Mobile.  The software features 20 times faster Javascript performance, smoother page scrolling, animated zooming and panning and other improved browsing features.
Access is set to release the software soon as part of their never-ending beta program (a bit like Opera I guess) and the version released should last for 6 months,
Keep an eye on Access's website here for the appearance of the software.
Via Phonescoop.com