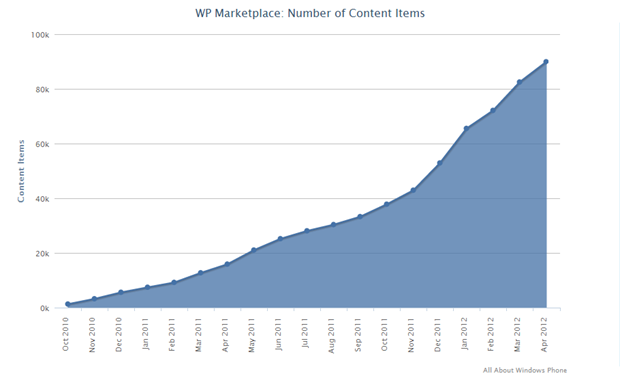 We posted yesterday, as calculated by WP7Applist.com, that Marketplace crossed the 90,000 apps mark.
Today AAWP has has weighted in with their own count, confirming 92,383 Windows Phone apps in Marketplace, being added at the rate of 340 apps per day, 24,371  in the last three months, 7,409 in the last month and from over 22,000 different publishers.
AAWP expects the 100,000 mark to be reached in June 2012.
Entertainment remains the the single biggest category (17,079 items), followed by tools + productivity (13,605), games (11,509) and books + reference (10,821 items). These proportions remained steady over the least few months. 68% of apps are free, with the number slowly increasing over time as more developers turn to ad-supported applications.
Read more detail at AAWP here.